ROME, Nov 22, 2010 (AFP) - Inter Milan coach Rafael Benitez is pinning his hopes on a Champions League victory over FC Twente in midweek to arrest an alarming slide that seems to have put his job at risk.
Prior to Sunday's 2-1 defeat at Chievo, the Italian press had given Benitez two games to save his job.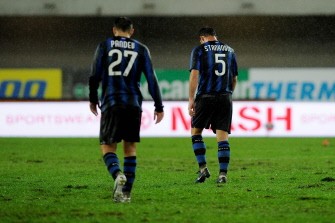 Inter Milan's midfielder Dejan Stankovic (R) and forward Goran Pandev react after conceding their 2nd goal to Chievo during the seria A match on November 21, 2010 in Stadio Olimpico in Verona. AFP
And having lost the first of those, even Benitez had to admit he needs to win on Wednesday.
"I'm a professional with many years of experience and I know that I must simply prepare for the matches and that's it," he said.
"If we win on Wednesday, everything will change.
"We need to score goals to win games.
"On Wednesday we have an important match and we have to stick together.
"We're in trouble but we've got many players out injured and we have to manage this moment."
It is true that Inter have a long injury list with the likes of Diego Milito, Maicon, Julio Cesar, Walter Samuel, Coutinho, Thiago Motta, Muntari Sulley and McDonald Mariga all missing against Chievo.
But they could still call on Serie A top scorer Samuel Eto'o to notch his ninth league goal of the season and 18th in all competitions.
That came deep into injury time with Inter already deservedly 2-0 down to strikes from Sergio Pellissier and Davide Moscardelli.
But Eto'o should not have been on the pitch at that point having got away with a blatant, deliberate headbutt on Chievo centre-back Bostjan Cesar on 36 minutes.
Benitez admitted his star Cameroon forward had lost his cool but he also claimed Cesar should have been punished too.
"I didn't see it," claimed Benitez before being shown the video evidence.
"It's clear he was punched and he's had this reaction that no-one likes to see but it's the reaction of a team needing to win.
"There are four officials at the game and if they don't think it deserves punishment then that's it.
"He's lost a bit of control that's clear but none of the officials took action."
As for the game itself, Benitez somehow managed to praise his misfiring team.
After last season's treble under predecessor Jose Mourinho, Inter's start to this campaign has been a disaster.
They have just five wins and 14 goals in 13 league matches, leaving them sixth in the table and nine points off arch rivals AC Milan at the top.
And yet Benitez preferred to praise his team's spirit.
"It's clear that after a defeat no-one is happy, the only thing I can say is that we worked very hard and our reaction in the second half on a terrible pitch showed great character," he said.
"I can't say anything against my team, the work ethic and attitude is there.
"We showed character, attacked all the time, took risks and if we'd have scored (at 1-0) that would have changed everything.
"This is football, when things aren't going well and you're playing with young players and needing to score, it's always more difficult to manage a game.
"Obviously we have to win these types of games because we're a strong team but we showed that we have the desire to win."
For his part Chievo coach Stefano Pioli played down the Eto'o headbutt.
"I didn't see it, I heard about it from other players and staff on the bench but for sure I prefer a different type of mentality," he said before turning to his own team's performance.
"We knew we could get chances if we could get the ball forward quickly because they attack with a lot of players.
"Inter approached the game well, they fought hard on a tough pitch but we were always quite compact, we played with a high tempo so it was hard for Inter."
Chievo are now just a point behind Inter and Pioli could not help but turn the knife in Benitez's wounds.
"It's a very tight league and even a team like Inter can have difficulties but I have to say, this isn't the Inter of last season that won everything."