MUNICH, Germany, April 29, 2010 (AFP) - Bayern Munich coach Louis van Gaal admitted Thursday he is relieved his team will be facing Italy's Inter Milan, rather than Barcelona, in the Champions League final on May 22 in Madrid.
After Bayern saw off Lyon 3-0 in Wednesday's second leg, to claim a 4-0 win on aggregate, Jose Mourinho-coached Inter lost their second-leg tie 1-0 at Barcelona to book their place in the final 3-2 on aggregate.
"Against Inter, our chances are much better than they would be against Barca," said van Gaal, who is chasing the treble of Bundesliga, German Cup and Champions League titles in only his first season in charge.
"Inter do not play as offensively as Barcelona."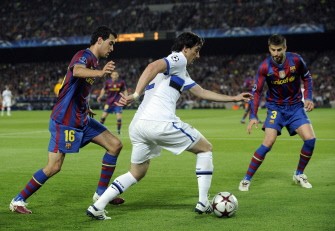 Barcelona's defender Gerard Pique (R) and Barcelona's midfielder Sergio Busquets (L) vie with Inter Milan's forward Alberto Milito Diego (C) during the UEFA Champions League semi-final second leg football match Barcelona vs Inter Milan on April 28, 2010. AFP PHOTO
The Champions League final will pit tough disciplinarian van Gaal against Inter's flamboyant coach Mourinho and the pair worked together when the Dutchman coached Spanish giants Barcelona.
Mourinho was van Gaal's translator and statistician at Barcelona before the self-styled "The Special One" went on to enjoy success at Premier League side Chelsea.
"He is a friend and an extraordinary coach," said van Gaal.
Bayern will be contesting their first Champions League final since they beat Valencia on penalties in 2001 while Inter were last in the European Cup final in 1972 when they were beaten 2-0 by Ajax in Rotterdam.