The largest ever Asian Games came to close on November 27 with fireworks and a flotilla of light-encrusted boats giving thousands of athletes a memorable send off.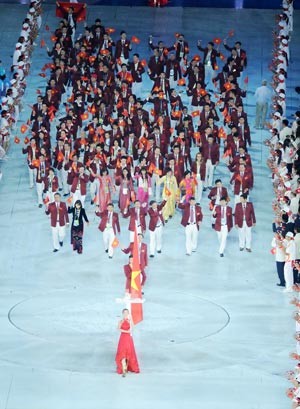 Vietnam athletes at the ASIAD opening ceremony on November 12. (Photo:SGGP)
The closing ceremony was also used by the Games hosts to present cultural segments representing the different regions of the continent, including South Asia in which Indian singers Ravi Tripathi and Tanya Gupta enthralled the capacity crowd.
2,500 students and 7,000 artists joined the closing ceremony.
The prelude to the official part of the ceremony was punctuated by dance of Qiling (a legendary animal symbolizing good luck) to celebrate the success of the Games that was followed by an exhibition of acrobatics and dance.
The other regions of the continent were also given their prominence in the cultural milieu before flashbacks of the Asian Games competitions and athletes being awarded their medals were shown along with emotional scenes, symbolizing the excitement and harmony that was visible during the Games.
The cultural show ended with all the participants coming on to the stage forming different patterns while singing and dancing with abandon to bring an end to the cultural part and the commencement of the formal part of the ceremony with the arrival of the athletes.
Athletes gathered beneath a towering cauldron and swayed to leather-clad Korean pop sensation Rain when he took to the stage with a rendition of "Bad Boy" as part of the handover to the next host city, South Korea's Incheon, in 2014.

Hosts China were unstoppable in their relentless march to titles and at the end of the Games had an incredible harvest of 199 gold in an overall haul of over 400 medals
Japan performed worse then expected, winning just 48 titles for an overall 216 total medals.
It left them well behind South Korea, who claimed 76 gold medals and 232 medals altogether.

Vietnam won last medal on November 26, closing the 16th Asian Games (ASIAD) with one gold, 17 silver and 15 bronze medals, ranking 24th in the medal tally after 15 days of competition in Guangzhou, China.
Related articles:
Karateist clinches first Asian Games gold for Vietnam
Vietnam's gold drought continues
Runner Truong Thanh Hang wins ASIAD silver for Vietnam
Vietnamese runners considered Vietnam's hope for gold
Vietnam still thirst for gold medal
Vietnam drops in ranking at ASIAD
Wushu brings three more medals for Vietnam
Vietnamese shoot team gets three more medals
Wushu artist athlete brings first medal for Vietnam