KUALA LUMPUR, March 15, 2011 (AFP) - Asian football chief Mohamed Bin Hammam on Tuesday declined to reveal whether he would challenge Sepp Blatter for the FIFA presidency but promised to make an announcement this week.
The president of the Asian Football Confederation (AFC) has dropped repeated hints in the past two months that he may stand, writing on microblogging site Twitter on Monday that he will "clarify" his position on Friday.
Bin Hammam, who was at the AFC headquarters in the Malaysian capital on Tuesday to sign a deal with English Premier League club Chelsea to promote football development, insisted he would only comment on the issue on Friday.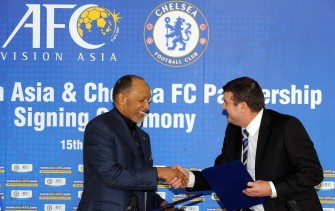 Mohammed bin Hammam (L) shakes hands with Chelsea FC chief executive Ron Gourlay (R) following a signing ceremony of the renewal of the Vision Asia partnership between the AFC and the English Premier League club in Kuala Lumpur on March 15, 2011. AFP
"I am not going to address any questions in regards to the FIFA election," he said at the start of a packed news conference.
"I am sorry to disappoint the media. I will address that question at a press conference on Friday," the AFC boss told reporters. He is scheduled to hold the news conference at the AFC headquarters at 0500 GMT on Friday.
Bin Hammam was once a close ally of Blatter and one of the driving forces behind his campaign to be elected in 1998. However, the pair fell out two years ago.
Bin Hammam's stunning success in securing the 2022 World Cup for Qatar provided a stimulus for him to consider the world football body's top post.
The FIFA presidential election is due to take place in Zurich on June 1.