PARIS, July 23, 2010 (AFP) - New coach Laurent Blanc launched a new era in French football on Friday when he handed out a one-match suspension for all 23 players who brought World Cup shame and humiliation.
Blanc, who has replaced Raymond Domenech, surveyed the wreckage of the team's South Africa misadventure, where players went on strike before crashing out in the first round, and banished the entire squad for the August 11 friendly against Norway.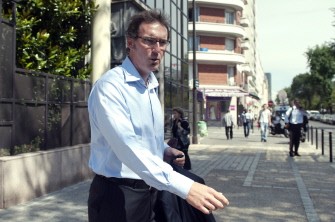 Coach Laurent Blanc leaves the French Football Federation headquarters on July 23, 2010 in Paris. AFP
Former Manchester United defender and Lyon coach Blanc refused to elaborate on his bold move but told his first press conference as coach earlier this month: "I can't act as if nothing happened in South Africa.
"I followed events with great sadness. I was disappointed by the sporting performance but I was above all outraged by certain behaviour. I'll take stock of these elements in my analyses and thoughts."
French football chiefs also unveiled a new president on Friday and his first act after assuming command was to issue a summons to Domenech to explain France's disastrous World Cup.
Fernand Duchaussoy was elected as successor to Jean-Pierre Escalettes, who resigned after the shambolic South Africa campaign where the team failed to win a match and finished bottom of their group.
After being unveiled as caretaker president of the French Football Federation (FFF) Duchaussoy announced: "I will be summoning Raymond Domenech in the coming days."
Domenech's last act as national manager was to refuse to shake the hand of Carlos Alberto Parreira after the Brazilian's South Africa dished out a beating to the fallen former world champions.
Duchaussoy commented: "Inacceptable unethical situations were committed, for example not shaking the hand of a rival coach, and not to warn the president (Escalettes) who was on site, of the events that took place at half-time of the France v Mexico match."
He was referring to Nicolas Anelka's foul-mouthed dressing room tirade at Domenech in France's second group game which resulted in the Chelsea striker being kicked out of the squad in disgrace.
That triggered the infamous player revolt with all of France's remaining 22-man squad refusing to train in support of Anelka before their final game against hosts South Africa.
Duchaussoy added that he would "reproach" Domenech and "take the consequences".
Even though he has been replaced as coach by Blanc, Domenech is still on the FFF payroll, but Duchaussoy warned: "If he wants to resign I don't think I will oppose him."
Asked if Domenech's sacking had been raised at Friday's meeting of the FFF in Paris the new president said: "It was evoked. We still have the right to demand that. I will summon him next week but these are delicate matters that I don't want to expand on."
The 67-year-old said he was honoured at being elected FFF president, but added: "I am however bitter at succeeding my friend Jean-Pierre Escalettes in one of the blackest periods, during a sporting and moral crisis."
Frederic Thiriez, Duchaussoy's number two at the FFf, said the federation was intent on putting its house in order after the World Cup debacle.
"We are agreed on a programme of reform towards a more modern, fair and democratic Federation," he stated.
France football has endured a woeful year with Thierry Henry's controversial handball which put France into the World Cup at the expense of Ireland in the play-offs, their pitiful display in the competition itself, and then the scandal involving Franck Ribery and Karim Benzema who were this week put under investigation on charges of having sex with an under-age prostitute.