PARIS, Aug 5, 2010 (AFP) - Disgraced striker Nicolas Anelka could yet play a part in France's bid to reach the 2012 European championships, new coach Laurent Blanc said on Thursday.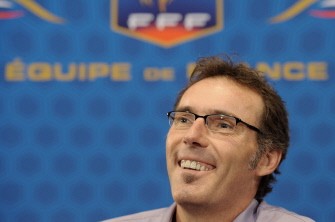 Laurent Blanc speaks during a press conference on August 5, 2010 in Paris. AFP
The 31-year-old Chelsea striker was sent home early from the World Cup in South Africa after a dressing-room bust-up with former coach Raymond Domenech.
Anelka and the other 22 members of the squad, who then staged a one-day strike in support of Anelka, have all been left out of Blanc's squad for his first game in charge, a friendly against Norway in Oslo on August 11.
But the former Bordeaux boss insists that the door remains open to any French player and that he would certainly not bar Anelka from a recall.
"I don't have the kind of information that would prompt me to take such a radical decision," he said.
An inquiry into the World Cup fiasco is due to publish its report on Friday and may recommend further sanctions against the players, although Blanc hopes it will not hinder his bid to qualify France for Euro 2012.
"What happened in South Africa cannot be rubbed out," he said. "It is a scar. But if we're going to sanction players, take disciplinary action against them, then I think you have to be very careful.
"I became coach to achieve one objective and I hope I will have all the forces at my disposal. It is important that we don't shoot ourselves in the foot before trying to reach our objective, which is Euro 2012.
"There is only one way that we can erase the memory of South Africa and that is winning."
Blanc also defended the decision to include Real Madrid striker Karim Benzema who is currently tangled up, along with Franck Ribery, in a police inquiry into reports they had sex with an under-age prostitute.
The allegations led to France's Minister for Health and Sport Roselyne Bachelot deeming they should not be selected for the national side pending the outcome of the case.
"My response is clear, clean and precise in announcing my squad," said Blanc.
"Even if he is not in the best physical or psychological state it was important to include him because I think Karim, like the others, can be an integral core member of the French team in the future.
"What is going on in his private life does not concern me. I have a sporting decision to take."
The mass ban on the World Cup squad means that 13 players are in line for a possible international debut while it also spells a second chance for the likes of Arsenal midfielder Samir Nasri and Roma defender Philippe Mexes.
"I had a chance to chat to him (Mexes). We all know he has the quality to make a very good central defender. He has shown it in Italy but not for the national team.
"I told him, 'the train has passed once. Make sure you climb on board if it comes by a second time'."
Blanc also said that a number of the new faces would have got their chance anyway even if he had not decided to suspend the World Cup 23.
"There are some on this list that would have been on it regardless. Some players have decided to retire and there were some who had been in my thoughts for a while. There are also some areas of play that need rebuilding. There is plenty to do," he added.
"Some players will celebrate a first cap. That is a good thing and I hope they take it with joy, luck, honour and the motivation to produce a good performance.
"It is a good opportunity for the players to prove their quality and show that they can have a say in the games to come."
Blanc's first Euro 2012 qualifier is against Belarus on September 3.

Squad
Goalkeepers: Nicolas Douchez (Rennes), Stephane Ruffier (Monaco)
Defenders: Aly Cissokho (Lyon), Mathieu Debuchy (Lille), Rod Fanni (Rennes), Philippe Mexes (Roma/ITA), Adil Rami (Lille), Mamadou Sakho (Paris St Germain), Benoit Tremoulinas (Bordeaux)
Midfielders: Yohan Cabaye (Lille), Lassana Diarra (Real Madrid/ESP), Blaise Matuidi (Saint-Etienne), Yann Mvila (Rennes), Samir Nasri (Arsenal/ENG), Charles Nzogbia (Wigan/ENG), Moussa Sissoko (Toulouse)
Strikers: Hatem Ben Arfa (Marseille), Karim Benzema (Real Madrid/ESP), Jimmy Briand (Lyon), Guillaume Hoarau (Paris St Germain), Jeremy Menez (Roma/ITA), Loic Remy (Nice)