ZURICH, June 1, 2011 (AFP) - FIFA president Sepp Blatter vowed to overhaul the voting system used to choose World Cup hosts here Wednesday after allegations of corruption surrounding the successful Qatar 2022 bid.
Blatter who is poised to be re-elected to another four-year term as head of world football later Wednesday, said he wanted future votes to award World Cup hosting rights to be decided by all 208 FIFA members.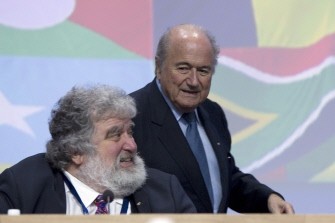 AFP - FIFA President Sepp Blatter (R) walks behind the general-secretary of the Caribbean, North and Central American (CONCACAF) Chuck Blazer, the US official whose claims led to the suspension of Asian football chief Mohamed bin Hammam and Jack Warner of Trinidad andTobago, on June 1, 2011 at the start of the 61st FIFA congress at the Zurich Hallenstadion
The FIFA membership would vote from a shortlist of candidates put forward by the organisation's 24-member executive committee. Previously, World Cups were chosen by the 24 executive committee members.
"I want to give more power to the national associations," Blatter said.
"In the future the World Cup will be decided by the FIFA Congress. The executive committee will create a shortlist - but will make no recommendations only a list - and the Congress will decide on the venue."
Blatter's pledge follows stinging criticism of last December's votes for the 2018 and 2022 World Cups, won by Russia and Qatar respectively.
Two members of the executive committee were suspended from the ballot after an investigation by British newspaper The Sunday Times found them seeking to trade votes for cash or development projects.
Former England 2018 bid leader David Triesman last month told a parliamentary inquiry four other members of the executive committee had demanded lucrative deals or honours in exchange for their votes.
The decision to hand the 2022 tournament to Qatar, an oil-rich Gulf state where summer temperatures can soar to 50 degrees Celsius, has attracted severe scrutiny.
FIFA general secretary Jerome Valcke said in an email leaked earlier this week he believed Qatar had "bought" the tournament, prompting furious denials by the 2022 bid team. Valcke later said his words had been miscontrued.
However the head of Germany's powerful football federation Theo Zwanziger called for the 2022 vote to be re-examined on Wednesday.
"I think there is a significant degree of suspicion that one cannot just dismiss," Zwanziger told ZDF public television when asked about calls for the sport's world governing body to take away the event from Qatar.
"And that is why I reckon that the awarding of this World Cup must be re-examined with regard to these concerns," he said.
"I do not want to comment on how that might happen until I know more about the matter. I am an outsider and not a member of the executive committee," the DFB president added.