ZURICH, June 2, 2011 (AFP) - FIFA president Sepp Blatter has been re-elected head of world football, vowing to clean up the body's tarnished image after months of explosive corruption allegations.
Blatter, 75, was given a free run at another four-year term following the withdrawal on Sunday of Asian football chief Mohamed bin Hammam, who was later suspended amid claims he tried to bribe voters with cash-filled envelopes.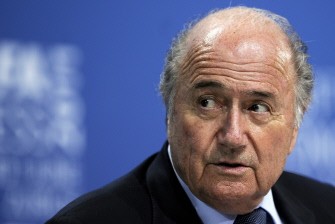 AFP - FIFA President Sepp Blatter looks back during a press conference after his re-election on June 1, 2011 at the 61st FIFA congress at the Zurich Hallenstadion in Oerlikon near Zurich.
Delegates at FIFA's 61st congress returned Blatter by a landslide of 186 votes out of 203 on Wednesday after an 11th-hour call for a postponement of the election by England's Football Association ended in a crushing defeat.
"We will put FIFA's ship back onto the right course in clear, transparent waters," Blatter said after clinching victory.
"We will need some time, but we shall do it."
Blatter, who took over FIFA in 1998, has faced widespread calls for reform following allegations of sleaze surrounding the bidding for the 2018 and 2022 World Cups, awarded to Russia and Qatar.
Several key FIFA sponsors joined forces on Tuesday to call on Blatter to reform the organisation, voicing concern about the damage being done to the image of football by the wave of negative headlines.
Earlier Blatter pledged radical reforms including an overhaul of the way future World Cup hosts were chosen and moves to strengthen FIFA's internal oversight.
Blatter said tournament hosts would in future be picked by all 208 FIFA members, rather than the 24-strong executive committee. The proposal was swiftly passed in a snap vote taken after his election
"I want to give more power to the national associations," said Blatter, who has vowed to step down as FIFA president in 2015.
FIFA had been forced onto the defensive following testimony in the British parliament last month that senior officials had sought cash and favours during the bidding process for the 2018 and 2022 tournaments.
Just hours before Blatter's re-election, the head of Germany's influential football federation, Theo Zwanziger, called for FIFA to re-examine Qatar's victory.
"I think there is a significant degree of suspicion that one cannot just dismiss," Zwanziger told Germany's ZDF public television.
Blatter's election win came after a vicious battle against former close ally bin Hammam, the Qatari head of the Asian Football Confederation (AFC).
Bin Hammam and influential FIFA vice-president Jack Warner were suspended by the organisation's ethics committee pending an investigation into claims they offered bribes of $40,000 in a bid to topple Blatter.
English FA chairman David Bernstein had sought to have the vote postponed following the withdrawal of bin Hammam. But England's attempts to take a stand fell flat, with voters dismissing the motion by 172 votes to 17.
Blatter later insisted he harboured no ill-will towards English officials following their failed attempt to stop the vote.
"I'm the president of all the associations now, and I have no bad feelings towards anyone who didn't vote for me. Don't worry," he said.
Bernstein, in a statement issued after the vote, said the FA was satisfied they had made their point and welcomed Blatter's reform proposals.
But the European Club Association (ECA), which represents Europe's most powerful clubs, took a more combative line.
ECA chief Karl-Heinz Rummenigge called on FIFA to "immediately introduce democratic and transparent structures and procedures.
"European clubs will no longer accept that they do not participate in the decision-making when it comes to club-related matters.
"We will closely follow FIFA's development in this respect in the future and take appropriate measures, if there is no improvement," he warned.
Blatter's pledges for reform came after sponsors Coca-Cola, Visa, Emirates and Adidas spoke out against the negative impact that recent corruption scandals were having on the organisation.
FIFA's sponsorship deals have helped to raise hundreds of millions of dollars for the organisation since Blatter took over in 1998, making FIFA the richest sports body on the planet with mammoth cash reserves of $1.3 billion.
Blatter insisted there had never been any danger of sponsors withdrawing from FIFA.
"Not a single sponsor said they would withdraw, only that they were concerned. But after today's decisions and the direct dialogue we have with sponsors they will be happy to continue," he said.