Both female and male futsal teams of Vietnam, the 3rd Asian Indoor Games hosting country, were defeated with stunning scores in the openers Wednesday in Ho Chi Minh City.
In the women's futsal, powerhouse Thailand beat Vietnam 6-1 before Jordan defeated Malaysia 5-2.
The four teams are in Group A. Meanwhile, Group B has Japan, Uzbekistan, Iran and the Philippines. The women's futsal final will be played on November 6, two days before the closing ceremony in Hanoi, which also hosts the opening ceremony on Oct. 30.
In the men's futsal, Malaysia really stunned hosts Vietnam 8-2 in Group C and powerhouse Iran in Group A beat Turkmenistan 8-3 Wednesday.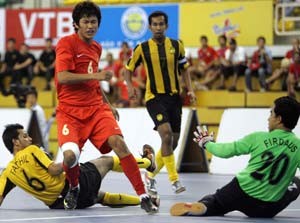 Vietnam's Bao Minh (red) approaches the Malaysia goal in their Wednesday game. Malaysia won 8-2 (Photo: SGGP)
Fourteen teams in the men's futsal were divided into four groups. The top two teams in each group will go through to the quarter-finals. The final is set for Nov. 7.
Group A has Iran, Turkmenistan and Macau. Group B has Tajikistan, Thailand and Japan. In Group C are Vietnam, Malaysia, Bahrain and Jordan. Group D consists of South Korea, Uzbekistan, Kyrgyzstan and Kuwait.

The third Asian Indoor Games officially takes place in Vietnam from Oct. 30 to Nov. 8, hosted in Ho Chi Minh City, Hanoi, and the northern provinces of Hai Phong, Hai Duong, Bac Ninh and Quang Ninh.