BOGOTA, Aug 15, 2011 (AFP) - Brazil won a thrilling 4-2 penalty shootout against Spain to advance to the semi-finals of the U20 World Cup on Sunday night along with France who earlier beat Nigeria 3-2 after extra-time.
Brazil, bidding for their fifth title and first since 2003, will next meet Mexico in Wednesday's semi-finals at Pereira while France take on Portugal in Medellin.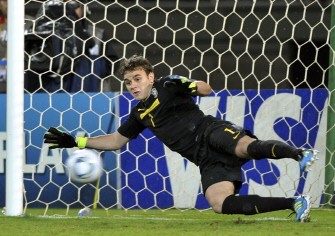 AFP - Brazil's Gabriel Vasconcelos catches a penalty kick during the quarterfinal football match against Spain
"We're very emotional after this victory. As we expected it was a very difficult match," Brazil coach Ney Franco said.
"Spain are a very strong team, they played well and have footballers of quality.
"We now have to adapt our game for Mexico who are very competitive and have just eliminated Colombia. Mexico are tactically different (from Spain)."
Three of the four quarter-finals went to extra-time with only Mexico having the advantage of winning in regular time, beating hosts Colomba 3-1 on Saturday. Portugal ousted favourites Argentina 5-4 on penalties after their tie ended goalless.
In Pereira, Spain had come from behind twice with Rodri equallising (57) after Willian (35) had opened for Brazil, with Alvaro Vasquez sending the tie into penalties as he scored after 102 minutes just two minutes after Dudu scored Brazil's second.
And Dudu sealed victory for the South Americans after Brazil goalie Gabriel saved penalties from Jordi Amat and Alvaro Vazquez.
Earlier France booked their place in the final four for the first time beating the Nigerian Super Eagles in extra-time of their quarter-final in Cali.
"It was a bitterly fought match. France took the chances they had. But we fought until the end even if our best efforts weren't enough," said Nigeria coach John Obuh.
Substitute Alexandre Lacazette opened for France after 50 minutes as Nigeria squandered a string of chances.
But with seconds left in injury time Ejike headed in the equaliser (93).
France doubled their advantage within two minutes as Gueida Fofana (102) and Lacazette (104) found the net with Ejike deflecting in a strike after 111 minutes.
France coach Francis Smerecki said his team were the dark horses of the tournament.
"We're not the favourites, I think that there are other teams better than France in certain areas. But from Monday we're going to work hard to match them," he warned.