LONDON, May 28, 2011 (AFP) - British Prime Minister David Cameron thinks the workings of football's governing body FIFA are "murky", The Times newspaper quoted a Downing Street source as saying Saturday.
The battle for the FIFA presidency has been thrown further into turmoil as the Zurich-based body announced they have opened a probe for alleged corruption against president Sepp Blatter.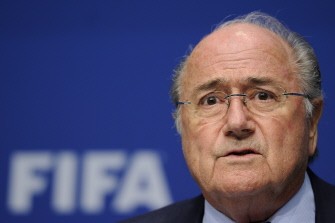 (AFP file) In this photograph taken on May 9, 2011 FIFA President Sepp Blatter gives a press conference at the headquarters of the world football's ruling body in Zurich.
"The prime minister has made clear in public and private that he believes the workings of FIFA have become rather murky", a Downing Street source told The Times newspaper.
Blatter will appear before FIFA's ethics committee on Sunday after claims he knew about alleged cash payments at the centre of an investigation targeting his election rival Mohamed Bin Hammam.
The Qatari had demanded the corruption investigation be widened to include Blatter on Thursday as the two men prepare to contest a June 1 election for control of world football.
British sports minister Hugh Robertson has called for the election to be suspended, claiming the campaign had descended into "a farce".
The Times said Downing Street confirmed that Cameron supported his minister's call.
The Football Association (FA), the game's governing body in England, is to abstain from voting.
English officials expressed outrage after their bid for the 2018 World Cup ended in humiliation last December, garnering just two votes to be removed in the first round before Russia went on to win.
Since then a British parliamentary inquiry has heard testimony from former FA chairman David Triesman alleging FIFA voters demanded bribes and favours in the World Cup bidding contest.