The Vietnam Football Federation and Budweiser Beer introduced Wednesday this year's Budweiser 6v6 International Cup in Vietnam, through which the winners will represent the country in the world championships in South Africa this July.
At the VFF head office in Hanoi, the federation, Vietnam Football Development Company and Budweiser announced the launch of the seven-week, team registration phase and schedule of play for the six-a-side competition.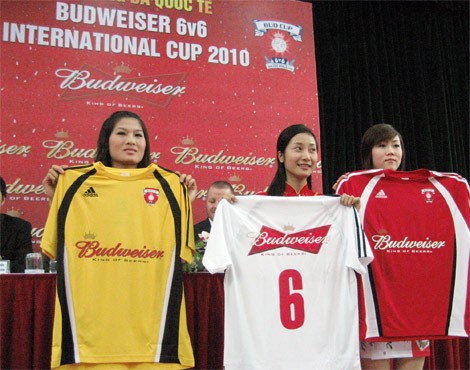 Adidas shirts for this year's teams are introduced at the launch of the Budweiser 6v6 International Cup in Vietnam on Jan. 6 in Hanoi (Photo: Vietnam Football Federation)
A total of 128 teams across the country will compete in the tournament from March 7 to April 4. They will be divided into zones and groups.
The qualifiers are scheduled for March 7 in Hanoi, March 13 in Danang, March 21 in Nha Trang and March 27 in Ho Chi Minh City. The top two teams from each city advance to the national finals on April 4 in Ho Chi Minh, with the winning club earning an all-expenses-paid trip to South Africa, host country for the 2010 FIFA World Cup.
Team Vietnam will then square off July 1 against representatives from nine countries such as China, Brazil and Germany in the "World 6v6 Champions" event. Each member of Team Vietnam will receive tickets to watch two of the World Cup matches in Round of 16.
Vietnam came second after Argentina in the Budweiser International 6v6 Championships 2009, played at the Old Trafford Stadium, home of English Premier League powerhouse Manchester United. It was the first time Vietnam joined the international game, and they lost just after a penalty shoot-out against Argentina.
Walter Blocker, CEO of the Gannon Group, authorized distributor of Budweiser in Vietnam, said "This year they'll battle for the title on a pitch the World Cup's best teams will duke it out on – Loftus Versfeld Stadium in Pretoria. What more could a football fan ask for?"
Budweiser Vietnam managing director Xavier Codron said, "It will be fun to watch Vietnam try to put last year's penalty shoot-out heartbreaker behind it and maybe win it all this time."