LUANDA, Jan 30, 2010 (AFP) - Togo, who pulled out of the Africa Cup of Nations after a terrorist attack on their team bus, have been banned for the next two competitions in 2012 and 2014, the Confederation of African Football (CAF) said Saturday.
CAF president Issa Hayatou told AFP the decision was based on "governmental interference", which led to Togo's pull out of this year's edition.
Togo quit the 2010 Nations Cup after two members of their delegation were shot and killed during the ambush on the team convoy as it arrived in the restive Angolan enclave of Cabinda.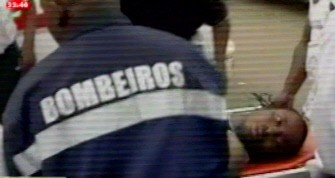 (AFP files) This photo shows a Togo team member wounded after attacks targeting the team in Angola early January
The armed wing of the Front for the Liberation of the Enclave of Cabinda (FLEC), embroiled in a decades-long separatist struggle, claimed responsibility for the attack.
Togo, captained by Manchester City star Emmanuel Adebayor, initially wanted to compete in Group B with Ivory Coast, Ghana and Burkina Faso, but quit on their national government's orders.
They left Cabinda to return home on the evening of the start of the competition on January 10.
"I told the players that we understood their position," Hayatou explained.
"We asked them to remain, but that if they decided to leave we would take action. And the players told us they would remain. Up to that point we were in agreement.
"But when there was political interference we couldn't accept that."
He said the Togo case was identical to one involving Nigeria who were withdrawn from the 1996 edition on their national government's orders.
"That was political interference and we banned the Nigeria team for the next two editions under article 78 of our rules."
The article Hayatou was referring to states that any team pulling out of the competition up to 20 days before it begins or during it would be suspended for the following two Africa Cup of Nations.
Hayatou continued: "There are no exceptional circumstances where political interference to withdraw a team is concerned.
"If the Togo players had decided to quit due to their emotion and suffering then we would have been understanding."
CAF's decision to punish Togo appears to be at odds with their position on the matter four days after the attack when Togo coach Hubert Velud revealed: "Hayatou came to us to offer his condolences.
"He didn't put us under any pressure. He also confirmed to us, but I'm wary about it all the same, that Togo would not be suspended for the following Africa Cup of Nations."
And CAF general secretary Moustapha Fahmi for his part announced at the time: "Given that the president of CAF has accorded every flexibility to Togo there will be no punishment in the event that they pull out."
The attack occurred as the Togo convoy drove into Cabinda from Congo-Brazzaville on the Friday, leaving players cowering under their seats during a 20-minute gunbattle with security forces.
Communications chief Stanislas Ocloo and assistant coach Abalo Amnalete were killed and goalkeeper, Kodjovi Obilale, was among the injured.
Obilale was airlifted to a hospital in Johannesburg where he is receiving treatment after gun shots to the back and abdomen.
"They fired on us like dogs," reported Togo squad member Thomas Dossevi at the time.
Angolan president Jose Eduardo dos Santos's government and African football officials had pleaded to the last second for Togolese authorities to allow the players to fulfill their wish to compete in the tournament to honour their slain colleagues.
"It's very sad. It's hard for Africa and for us. These things are part of life, you have to accept it," Adebayor told AFP before flying to Lome.
Togo Prime Minister Gilbert Houngbo explained the reasoning behind the order to pull-out of Angola.
"We understand the position of the players who want to in some way avenge their dead colleagues, but it would be irresponsible for the Togolese
authorities to allow them to continue," Houngbo said.
Organisers rejected calls for the 2010 tournament to be scrapped with security beefed up in Cabinda and the three other venues in Luanda, Benguela and Lubango.
Despite fears of more attacks the competition, which reaches its climax with Sunday's final between champions Egypt and Ghana, has passed off peacefully.