Vietnam coach Henrique Calisto announced Tuesday the 23 footballers who play a friendly with Greek champions Olympiakos in Hanoi on May 14.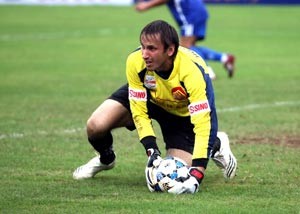 Ninh Binh Club's keeper Dinh Hoang La, or Lytovka Mykola from Ukraine, is called up to the national squad for the 1st time (Photo: SGGP)
The three goal keepers, seven defenders, nine midfielders and four strikers will start their Hanoi training camp on May 10, four days before the game, which the Vietnam Football Federation described as one of the most prominent football events in Vietnam this summer.
The 23 names include 12 players who did not join the national squad who won the Southeast Asian Championships for the first time in December last year. All three keepers Calisto called this time are the new faces.

The Portuguese coach called two naturalized Vietnamese, goalkeeper Dinh Hoang La and midfielder Dinh Hoang Max, who are playing for first-division club Ninh Binh. Keeper La, or Lytovka Mykola from Ukraine, and Max, who is Nigerian footballer Maxwell Eyerakpo, received Vietnamese citizenship earlier this year.
Calisto said he did not call players from Vietnamese defending champions Binh Duong so that they can play better on the on-going Asian Champions Cup. He added the upcoming game with Olympiakos is a friendly, and he would call the best players for the next training camp following the game to prepare for a match with Kuwait – a qualifier for the 2011 Asian Cup.
The four ticket categories for the Vietnam-Olympiakos game are VND500,000 (US$28), VND350,000 (US$20), VND250,000(US$14) and VND150,000 (US$8.8).
The two teams will play at My Dinh National Stadium at 7:30 pm. The Vietnam Football Federation has confirmed that the Greek club will send their best players to Hanoi this time.
Goalie Antonios Nikopolidis may be the most famous player to come with the team. He was the Greek hero at the EURO 2004 when they secured the trophy after beating Portugal 1-0 in the final. The team triumphed for the European Champions title for the first time in their history and during the campaign, the keeper made many splendid saves.
Other players will include Vasilis Torosidis, Avraam Papadopoulos and Christis Patsatzoglou. Such key players as Fernando Belluschi, halfback Dudu Cearense and best scorer Luciano Galleti will also be part of the visiting team.