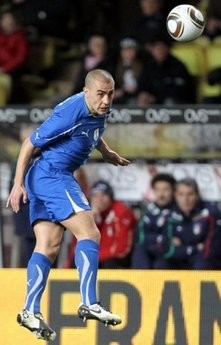 Italy captain Fabio Cannavaro (AFP file)
DUBAI, June 2 (AFP) – Italy captain Fabio Cannavaro has signed a two-year deal with Al-Ahli of Dubai after Juventus turned down the chance to extend his contract.
Former Real Madrid defender Cannavaro signed a one-year deal with Juventus last year but heading into the World Cup the Turin club decided not to extend that contract.
But the 36-year-old, who currently has 132 caps for Italy and will retire from international football after the June 11-July 11 World Cup, said he was delighted to have now signed for the Dubai club.
"My contract with Al-Ahli realises my dream of living in Dubai and finishing my career playing for one of its clubs," said Cannavaro, currently with the Italy squad in South Africa.
Al-Ahli official Abdullah al-Nabuda added: "It's one of the biggest deals for us.
"Cannavaro is a player known for having worn the jerseys of clubs as famous as Real Madrid and Juventus. He was also voted the world's best player in 2006, the same year he won the World Cup in Germany with his team."