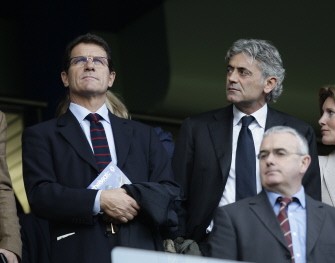 AFP file - England manager Fabio Capello (L)
LONDON, Nov 14, 2010 (AFP) - England manager Fabio Capello has defended his decision to pick Andy Carroll, saying problems in the Newcastle striker's private life should not affect his international career.
Carroll, 21, was named in the England squad to face France next week at Wembley after a strong start to the season which has seen him score seven times in all competitions for the newly promoted Magpies.
However the physically imposing centre-forward has also found himself on the front pages for a series of unsavoury incidents, including an alleged assault on an ex-girlfriend and a court case for involvement in a bar fight.
But Capello believes Carroll, who has already represented England at youth levels, should not be barred from international football because of his chequered private life.
"He is young," Capello told reporters. "It is very important for him to stay in the seniors here because we have a lot of important players, who can stay with him and speak with him about the area outside the pitch.
"I think that is important. But he is only young. Everyone, when they are young make mistakes."
Capello has in the past called on England players to set high standards of behaviour off the pitch as well as on it.
However he said Carroll's youth had been taken into consideration when deciding whether or not to pick him.
"He is young. That is the big difference. He is 21. He just started to play last season. He didn't play a lot of games like this season. This season he has exploded. Now he is on fire," Capello said.
"I hope that his private life will be better. I hope it will improve. He has to understand that he is one player for the senior team and you have to be careful at every moment."
Capello acknowledged however that he had sought advice from the Football Association before selecting Carroll.
"I spoke with the FA. The FA have told me I can pick him ... No problems. For this reason I pick him. He is a really interesting player," he said.
"He is good in the air. He has good movement without the ball. He finds space. Technically he is good. He is a fighter. For this reason he is good."
Capello meanwhile admitted the drinking habits of English footballers -- during his recent court hearing for assault Carroll admitted he had downed nine pints of lager on the day of the incident -- were a cause for concern.
Manchester City's England contingent of Adam Johnson, Joe Hart and Gareth Barry, had also attracted recent headlines after being caught on video on boozy nights out in Scotland and Spain.
Footballers who drank excessively were likely to have shorter careers, Capello said.
"Probably if the player drinks a lot his career will be shorter. This is important. The player has to understand this. The effect the drink has on the body," Capello said.
Footballers also needed to be aware that in an age of camera and video phones and the Internet, any indiscretions were likely to enter the public domain.
"You can know everything about what happens in someone's private life because of this," he said, picking up a mobile phone.
"It can record all the time. It can take pictures. You can find everything on Facebook etc. This is the worst. For this reason people can speak about this person drinking or this person being out.
In Italy and Spain, I know the life of the players. They like to drink when they eat, during dinner. Not after.
"When you go to the pub or bar or hotel you have to be careful because this (phone) is terrible. Before it was normal. Now you can see everything."