CARDIFF, Wales, March 27, 2011 (AFP) - Jack Wilshere admits Fabio Capello laid the foundations for England's Euro 2012 qualifying win over Wales by telling his players to copy Barcelona.
Capello wants England to replicate Barca's pressing game, which denies opponents time on the ball and disrupts their rhythm, and to drive home the point he showed his players video highlights of the Spanish champions' victory over Arsenal in the Champions League.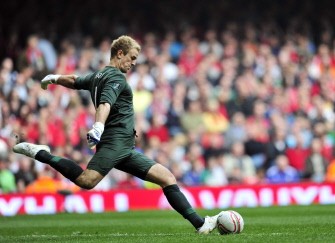 England's goalkeeper Joe Hart kicks the ball during their match against Wales at the Millennium Stadium in Cardiff, on March 26, 2011. AFP
Arsenal midfielder Wilshere knows all about Barcelona's qualities after playing in both legs of that recent European defeat and he was happy to try to emulate their style.
Together with Scott Parker and Frank Lampard, Wilshere formed a formidable midfield trio that squeezed the life out of Wales in Saturday's 2-0 win in Cardiff.
"Fabio watched the two games and told us how good Barcelona are at pressing," Wilshere said.
"We watched some videos on Barcelona and the way they press. The full squad watched clips of them against Arsenal a couple of days ago.
"We want to press like them because they are the best team in the world, so we have to learn from teams like that. We pressed high and were able to get two early goals."
Wilshere, 19, belied his tender age with a mature display that continued his superb form for Arsenal.
Making his first appearance in a competitive international, he linked play impressively and followed Capello's instructions not to give Wales time on the ball.
"You are around good players, so that always helps get used to this level. People like (Frank) Lampard and (Wayne) Rooney, it's easy to play with them and that helped me," Wilshere said.
"It's part and parcel of football that if you play well people will talk about you.
"That is what you want. But at my age I am just trying to improve every day. I've still got a lot to learn."
Wilshere also tried to side-step a brewing row over his participation in the European Under-21 championships during the coming close-season.
England Under-21 coach Stuart Pearce wants him to play, but Arsenal boss Arsene Wenger is keen for his young prodigy to get as much rest as possible.
"It's international football and I want to play in any international football," Wilshere said.
"It's up to Stuart Pearce and Fabio Capello. They will talk to me and decide what is best. I will speak to Arsene Wenger as well."
Wilshere's rapid development may not be good news for everyone in the England team in the long run.
Frank Lampard put England ahead with a calmly taken penalty and gave a solid display, but the Chelsea midfielder is still in danger of losing his place in the team as Capello has already made it clear Wilshere is a starter now.
If Capello keeps faith with Parker, the England coach will have to choose between Lampard and Steven Gerrard for the last place in midfield.
Lampard won't lose any sleep over the battle but he believes he still has plenty to contribute.
"I don't get the papers but I was aware of the talk. I've been around England for a long time and I've tried not to let that talk concern me," he said.
"It's a good squad and a strong squad and no player should rest on their laurels and think they will be picked.
"I'm 32 now and won't have any sleepless nights, but I obviously want to play and contribute. If I can't do it from the start I will try from the bench."