LONDON, July 18, 2010 (AFP) - Fabio Capello is likely to drop John Terry from the England team next season, according to Italy defender Fabio Cannavaro.
Cannavaro got an insight into Capello's ruthless style of management when he worked with the Italian at Real Madrid and the Juventus star is convinced Terry is in severe danger of losing his England place after his controversial comments at the World Cup.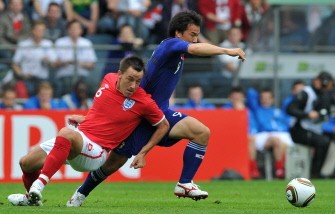 (AFP files) John Terry (L)
Earlier this year Capello had stripped Terry of the captaincy following revelations about the Chelsea player's affair with the ex-partner of former team-mate Wayne Bridge.
And Capello was further angered when Terry used a press conference during the World Cup to claim that he was ready to confront the Italian over his tactics and team selection.
Terry was forced to back down after Capello called his comments a "big mistake" but he gave a poor performance as England slumped to a 4-1 second round defeat against Germany.
Cannavaro is convinced Capello will make changes for the 2012 European Championship qualifying campaign, with Terry the most likely to lose his place.
"My thoughts are that John Terry won't be on the team sheet," Cannavaro told the Daily Star Sunday.
"You don't cross Fabio and he won't want anybody disrupting his tournament again.
"It was absolutely the correct decision for the English FA to keep Fabio on. He can make this England team his own now - and I would actually make them the favourites for Euro 2012.
"When he joined Real Madrid he brought a lot of players in the first season like myself and Ruud van Nistelrooy and the result was instant success but internationally it takes time to build your own team.
"I don't want to speak for Fabio but I'd be surprised if more than five of the players who started against Germany start the opening game of Euro 2012.
"For me, the only two players that can be guaranteed to start in 2012 are Ashley Cole and Wayne Rooney.
"If Fabio gets rid of egos, I think England will see exactly why it was a good decision to keep him on."