With the 2014-15 football season officially ending, the best players, coaches and teams were honoured on September 28 night in Hanoi.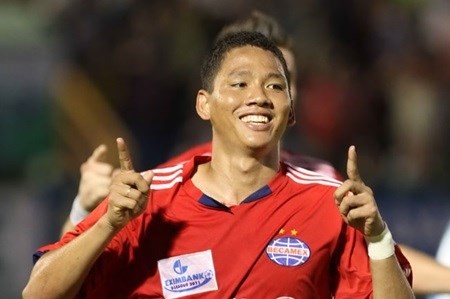 Striker Nguyen Anh Duc of Becamex Binh Duong who was voted the player of the season. (Source: nguoiduatin.vn)
The Vietnam Professional Football Company (VPF), who managed the V.League 1, V.League 2 and the National Cup, summed up their work at a lavish ceremony.
Becamex Binh Duong won almost all the prizes in the team category as they won both the V. League 1 and the National Cup tournaments, as well as the fair-play prizes for both these events.
Their Go Dau Stadium is recognised as having the best grass surface in the nation.
Hanoi FC triumphed the V.League 2 and are promoted to compete in the V.League 1 next year.
Striker Nguyen Anh Duc of Becamex Binh Duong was voted the player of the season.
The best scorer was forward Tambwe Patiyo of Quang Nam who netted 18 times.
Do Duy Manh of Hanoi T&T was honoured as the best young player, while his coach Phan Thanh Hung was voted the most successful trainer of the year.
Quang Ninh Coal were satisfied with the title for best fan club, while FLC Thanh Hoa's Le Quoc Phuong had the most beautiful goal.
Referee Vo Minh Tri received the Golden Whistle while Nguyen Trung Hau collected his first Golden Flag as the best assistant of a referee.
The organisers selected one player from each team before choosing a star team which gathers outstanding players who work well in the 4-4-2 formation.
At the review, VPF said that despite the numerous difficulties it was a successful season with improvement in the quality of all three competitions.
Due to the numerous goals scored more spectators flocked to the stadiums, a remarkable increase compared to the previous years.
Players competed under the fair-play spirit which was in evidence through the fewer number of yellow and red cards.
There was no incident of match-fixing as the organisers worked hard with every club and cooperated with the police to ensure a transparent tournament.
However, there were still shortcomings which needed to be resolved so that the 2016 season would be an improvement on the one just concluded.