PARIS, Nov 22, 2010 (AFP) - After suffering a domestic dose of the jitters, Chelsea, London rivals Arsenal and German giants Bayern Munich will seek solace in strong Champions League form on Tuesday.
Chelsea and Bayern are at least already assured of their passage to the last 16 ahead of a home encounter with Zilina and trip to Roma respectively whereas Arsenal must put points on the board at Portugal's Sporting Braga if they are to avoid throwing away their strong start in Group H.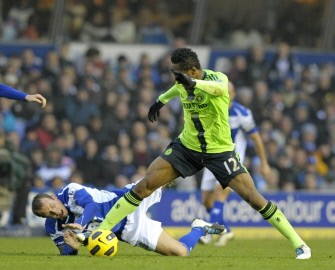 Chelsea's John Obi Mikel (R) vies with Birmingham City's Lee Bowyer (L) during the English Premier League football match between Birmingham City and Chelsea at St. Andrews, Birmingham, England, on November 20, 2010. AFP
Their Premier League lead down to mere goal difference after three losses in four games, Chelsea are struggling to stay on the rails at home and there is clearly some discord over the sudden sacking of former assistant coach Ray Wilkins - who has claimed unfair dismissal.
Losses to Liverpool, Sunderland and Birmingham have shattered the Blues' early season aura of invincibility and coach Carlo Ancelotti is also having to cope with injury to such talismanic figures as John Terry and Frank Lampard.
Whilst talk of crisis may appear premature Ancelotti has already implied the need for displaying a Harry Potteresque touch from the confines of his technical area.
"I am a good magician. When everything was OK, I said there would be a difficult moment to arrive," he said after the surprise loss to Birmingham.
"It has arrived and we need to be able to move on quickly."
With Zilina already eliminated and having shipped seven goals at home to a Marseille side Chelsea easily dispatched at Stamford Bridge, Ancelotti's men should be able to look forward to Tuesday with confidence as they target a fifth straight win in the group.
Much more is at stake for Spartak and Marseille, who are both on six points.
The Russians know a win will take them through but the French equally are aware that three points will suffice if they can manage a margin greater than the 1-0 loss in their first encounter at the Stade Velodrome.
"We still have the cards in our favour, and we know very well that a win there will guarantee us a place in the second round," said Marseille boss Didier Deschamps.
If Chelsea's domestic league form is giving cause for concern then so is that of Arsenal - who, like their neighbours, have never managed to win the top prize in European club football, losing the 2006 final to Barcelona while Chelsea succumbed in the 2008 final on penalties to Manchester United.
Gunners' boss Arsene Wenger seems destined to miss out on Champions League glory but it is an overall trophyless run which now stands at half a decade which has sent the grumble-ometer into overdrive at the Emirates Stadium.
Thanks to United's fondness for draws this season - seven in 14 Premier League matches - and Chelsea's recent stumbles - the gap on the Premier League summit is only two points but the momentum is far from being with the Gunners after Saturday's third home loss of the season.
Reverses to promoted sides West Bromwich Albion and Newcastle were bad enough but fans found it even harder to stomach another slip-up, this time to local rivals Tottenham after the red side of North London had led 2-0.
"We certainly have a problem to sort out at home," Wenger candidly admitted after Saturday's 3-2 reverse.
Always mindful of giving youth its chance, Wenger did just that in his side's last European outing - but a loss at Shakhtar Donetsk wrecked a perfect record over the opening three games.
Arsenal thus still have work to do before they can book their spot in the knockout stages.
Shakhtar now likewise have nine points and so will Braga if they can spike the Gunners on their own patch, a remarkable if unlikely turnaround considering they lost 6-0 in London.
Arsenal cannot afford a slip-up as Shakhtar will be out to claim top spot in Group H by beating a Partizan Belgrade side who look out of their depth.
Elsewhere, four-time European champions Bayern Munich stand just eighth in the German Bundesliga - but four wins on a roll have given them ownership of Group E ahead of their trip to Roma, who are currently sitting second after two wins and two losses.
A defeat at the Olympic Stadium does not bear thinking about for the Italians as it could let in the winners of the other tie between Basel and Cluj.
In Group G, Real Madrid travel to Ajax having already qualified and seven-time winners AC Milan need to put daylight between themselves and third-placed Ajax by winning in France against Auxerre, while hoping Real can help their cause in Amsterdam.