LONDON, April 15, 2011 (AFP) - The focus at Chelsea switched immediately from the quest for honours and settled on Carlo Ancelotti's future the moment the final whistle blew on the London club's Champions League campaign this week.
Defeat in the quarter-final at Manchester United means Ancelotti's side no longer have a realistic chance of landing silverware this year and will travel to face West Bromwich Albion with only a place in the top four at stake.
Eleven points adrift of United in the Premier League, albeit with a game in hand, Chelsea have only the faintest of hopes of retaining the title they won last year.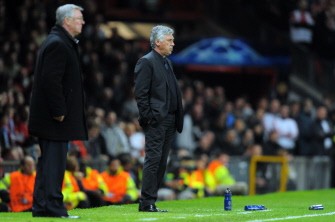 Chelsea's Manager Carlo Ancelotti (R) and Manchester United manager Alex Ferguson watch during the UEFA Champions League quarter final second leg football match between Manchester United and Chelsea at Old Trafford in Manchester on April 12, 2011. AFP
And sitting five points clear of fifth-placed Tottenham with seven games remaining, they should be assured of qualification for next season's Champions League.
Whether that will be enough to secure Ancelotti's position as manager remains to be seen.
The Italian has been under growing pressure ever since his side's impressive start to the season came to an abrupt end three months into the campaign.
And their continuing failure to reverse a steadily downward trend has led to increased speculation that owner Roman Abramovich is planning major changes ahead of next term.
It may already be too late for Ancelotti to win back the owner's favour and a slip at a fast-improving West Brom will only increase the sense that the manager is a dismissal waiting to happen.
The Italian's team selection will scrutinised for signs of whether he is planning ahead - and the position of Fernando Torres will again attract the most attention.
The striker was withdrawn at half time at Old Trafford after once again failing to break his scoring duck for the club he joined in a record £50 million move on transfer deadline day in January.
The failure to land silverware has inevitably darkened the mood at Stamford Bridge but keeper Petr Cech insists the club must now set the revised target of finishing runners up.
"It is disappointing always if you are a part of a big club and don't win a trophy, after winning the Double last season everybody thought we would go and defend our titles.," Cech said.
"We had a good start to the season, then it became difficult but we were doing well in the Champions League so far until those two games against Man United. We were unlucky in the first game and today they won, but overall they won both games and they deserve to go through.'
"There are seven games to play. Those seven games will make a big difference, if you go and win most of the points I think we can finish second, and the season can be remembered with a head up. We have to qualify to have another go at the Champions League next season."
Meanwhile, West Brom midfielder Youssouf Mulumbu has rubbed salt into Chelsea's wounds after their Champions League exit by claiming they aren't as good as they used to be.
Ancelotti's side aim to return to winning ways against an in-form Baggies side who climbed to 10th by beating Sunderland last weekend and are now out to settle an old score following their 6-0 thrashing by the Londoners on the opening weekend.
"Apart from that game, we can say we deserve to stay in the Premier League. So it is about revenge, because the result against them was ridiculous," Mulumbu said.
"They're not as good at the moment so I think we can have a great result on Saturday. It would be great because we're on 39 points and, if we win, we'd be on 42.
"So it's a big game for us, both for the points and also to get revenge after the first game we had against them.
"We can't think everything is done because we still have to get some points. Saturday will be a big game for us and we have to get a good result.
"We don't have to be scared of big teams because we have dealt with some big teams at home."
Graham Dorrans misses out again as he continues his recovery from an ankle injury.