LONDON, March 28, 2011 (AFP) - Brazil coach Mano Menezes believes Neymar would be a big hit in the Premier League if the teenage striker joined Chelsea.
Neymar has already been the subject of one rejected bid by Chelsea and the Santos star bolstered his growing reptutation with both goals in Brazil's 2-0 friendly win over Scotland at Arsenal's Emirates Stadium on Sunday and.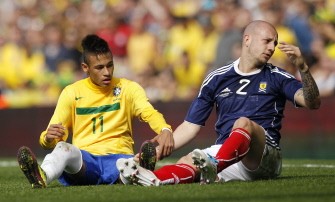 Brazil's Neymar (L) gestures with Scotland's Alan Hutton during their friendly football match at the Emirates Stadium in London. AFP
The 19-year-old only made his full Brazil debut in August but he already has three goals in three international appearances and Menezes admits a move to England would add another dimension to Neymar's game as he would have to learn how to cope with a more physical style of play.
"That could only be good for Neymar as a final complement to his transformation," Menezes said.
"The style in England will give him stronger physical strength and he would develop to escape the strong marking. If he did that he would be a more complete player.
"I don't see any problem if he moved, although it is never good for the supporters in Brazil to see the best players leave.
"I understand the personal motivations and financial ones that decide these things."
Whether Neymar would like to move to England is another matter after he claimed he was subjected to racist abuse during the match, while it was also reported that a banana was thrown at the teenager.
Neymar's dazzling show was just what Menezes needed after defeats against France and Argentina and the coach is confident Neymar and debutant striker Leandro Damiao both have the potential to become key players as he builds towards the 2014 World Cup in Brazil.
Menezes said: "We had a well defined plan, the team followed the tactics well. They gave very little to the opponents and we were winning with security. We were very superior as we expected.
"When you lose strikers like (Alexandre) Pato and Nilmar to injury that brings more risks but the newer players did well and they will evolve and become more confident.
"It was a good start for them. But when I talk about stars, I don't choose who will make it. They will achieve it themselves.
"I also need to see their character and attitude. When you are in extreme difficulties, that's when you really get to know who the main players are.
"This is a good starting point. We will speak to Neymar and Leandro and see how far they can go in the future with the national team.
Scotland coach Craig Levein was also impressed by Neymar, who scored in the 42nd minute with a cool finish and then stroked home a 77th minute penalty that he won himself.
"We knew all about Neymar before the match. People are saying they were weaker because they had to bring Neymar in as a back-up but I don't know if he weakens any team," he said.
Scotland were completely out-played for the majority of the match and rarely threatened a goal but Levein still took heart from the way his players kept battling against superior opponents.
"I enjoyed it. We won't have many tougher friendlies than that," Levein said.
"There is always the thought we might get turned over against quality opposition but that didn't happen. I was really pleased because the players worked their backsides off.
"Brazil were playing us off the back of two defeats. That doesn't often happen with Brazil and it was really important for them to win."