Top Vietnamese chess player Le Quang Liem has defeated Argentina's Felgaer Ruben in his fourth game in the 2012 Tradewise Gibraltar Chess Festival taking place in the UK from January 23-February 1.
It took the Ho Chi Minh City chess player 54 moves to win in his fourth game of the tournament, the 10th edition of the championship.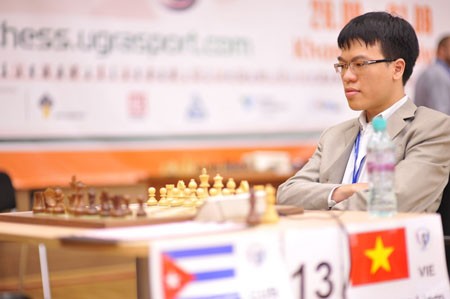 (File) Le Quang Liem
Liem, the fifth top seed in this tournament, has an Elo rating of 2714 and Ruben's Elo is 2571.
The Vietnamese player has earned 3.5 points after three wins and one draw, ranking fourth after fourth games. China's Hou Yifan (Elo rating 2605) took the lead also with 3.5 points.
In his first game Liem defeated Karim Ismael of Morocco, who holds an Elo of 2405. Liem went on to beat Spain's Angelis Salvador (2531). In his third game, Liem drew with Rumania's Mircea Emilian (2650)
In the next game, Liem will play Britain's Short Nigel.