China defeated 10-men Vietnam 2-1 Sunday in the final game of their Asian Cup qualifying campaign at My Dinh National Stadium in Hanoi.

The Chinese, who were already qualified for next year's Asian Cup in Qatar, scored twice in the first half during the moments the hosts lost concentration. Yang Xu fired for China in a middle of disorders in the 34th minute, and Zhang Linpeng beat Vietnam keeper Quang Huy with a cannon shot two minutes before the break.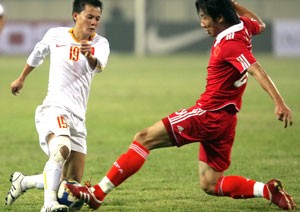 Vietnam midfielder Pham Thanh Luong (L) competes for the ball against a China player in their Asian Cup qualifier in Hanoi Jan. 17 (Photo: SGGP)
Before the first goal, Vietnam midfield Phan Thanh Hung, a player from the U-23 team, challenged China keeper and captain Yang Zhi with a strong shot but Yang denied.

Ten minutes after the break, Vietnam striker Nguyen Viet Thang was sent off with a red card due to his fault. However, the hosts started to play aggressively.

Midfielder Pham Thanh Luong, a shuttle in the home side, brought to the hosts a penalty in the 72nd minute. Striker Le Cong Vinh converted it to reduce the gap.

From that moment, Henrique Calisto's 10-men side played rapidly and more aggressively. Both Luong and Vinh got some chances but failed to convert. Just a few minutes after the final whistle, China keeper Yang made a great save when denying a strong shot from midfielder Nguyen Trong Hoang, another player from the U-23 team of Vietnam.

China coach Gao Hongbo said after the game, "Complacency hit my players in the second-half after we built up a two-goal lead."
"The offensive and defensive lines couldn't link with each other for a certain period.
Vietnam coach Calisto said his side did not show enough the necessary confidence and desire to win. He said his team looked scared in some moments.
China and Syria in Group D were qualified for next year's Asian Cup in Qatar, while Vietnam and Lebanon said goodbye.

In the 2007 Asian Cup co-hosted by Indonesia, Malaysia, Thailand and Vietnam, the Vietnamese were among the last eight teams.