GUANGZHOU, China, Nov 18, 2010 (AFP) - China took its Asian Games gold medal tally to 100 when the host nation's women's lightweight double scull won their rowing race on Thursday.
The haul, from a possible 174 golds, means the Asian sporting heavyweights have now reached 100 gold medals in each of the last six Asiads.
The country's best haul was 183 golds at the 1990 Asian Games it hosted in Beijing.
On Thursday South Korean superstar Park Tae-Hwan is targeting a fourth freestyle gold in the men's 1,500 metres as China's Jiao Liuyang eyes a butterfly clean sweep at the Asian Games.
Park, who has won the 100 metres, 200m and 400m in a devastating display of power in Guangzhou, will go head to head with his fierce rival Zhang Lin, whom he beat to 400m gold at the 2008 Beijing Olympics and in this week's race.
On the last night of action in the pool, he will also come up against China's Sun Yang, ranked number one in the world in the 1,500m freestyle, who took silver behind Park in the 400m on Tuesday.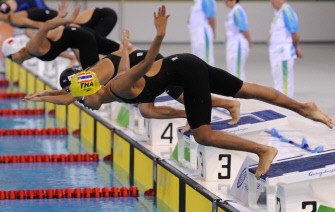 (R-L) Natsaya Susuk of Thailand, Natsumi Hoshni of Japan and Lu Ying of China compete in the women's 50m butterfly heats in the swimming event of the 16th Asian Games in Guangzhou on November 18, 2010. AFP
When asked on Wednesday about his chances in the 1,500m, Park, the defending champion at the distance, said he would have to work hard to stay in touch with his two main Chinese rivals.
Aged just 17, Park won three gold, a silver and three bronze medals at the 2006 Asian Games in Doha -- the biggest medal haul by a single athlete.
As well as his three gold medals so far, Park has also won two bronze in Guangzhou in relay events.
China's Jiao, who qualified fourth quickest for the 50m butterfly final, already has gold medals in the 100m and 200m butterfly under her belt as well as a gold as part of China's 4x100m individual medley team.
Lu Ying of China and Singapore's Tao Li topped qualifying with exactly the same time of 26.52sec, with Japan's Yuka Kato in third.
China have dominated action in the pool, winning 22 out of the 32 gold medals on offer so far, leaving Japan trailing in their wake on just six.
It is a crushing disappointment for the swimming powerhouse, who tied with China on 16 gold medals apiece at the 2006 Asian Games in Doha.
Also in Thursday morning's qualifying races 14-year-old sensation Ye Shiwen, who earlier won the 400m medley, clocked 2:15.74 to top the times for the women's 200m individual medley ahead of fellow Chinese Wang Qun and Taiwan's Cheng Wan-jung.
"I have recovered from the 400m individual medley. I am very confident in my freestyle. Butterfly is my weaker stroke. My goal tonight is to swim faster than 2:10," said Ye.
Japan's Junya Koga was quickest in qualifying for the men's 50m backstroke final, edging compatriot Ryosuke Irie, with China's Cheng Feiyi in third.
"My time in the heat wasn't that good but it was OK. My goal was just to get into the final. I hope I can get a good place tonight in the final for the team and for myself," said Koga, who touched in 25.42sec.
Irie is looking for his third gold after wins in the 100m and 200m backstroke events.
In the men's 200m breaststroke -- missing injured four-time Olympic gold medallist and defending champion Kosuke Kitajima of Japan, China's Xue Ruipeng was fastest in 2:15.20, ahead of South Korea's Choi Kyu-Woong and Kazakhstan's Vladislav Polyakov.
Japan qualified quickest for the men's 4x100 medley final in a time of 3:40.78, ahead of China and Kazakhstan.