Hosts China crushed Vietnam 6-1 in a qualifier for the 2011 Asian Cup Wednesday in Hangzhou, with a hat-trick by striker Gao Lin.
Coach Yin Tiesheng's men earned three important points after Syria defeated them 3-2 in the opening match of Group D one week ago.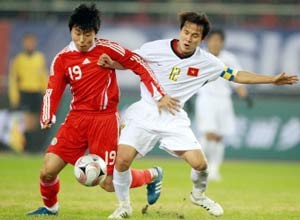 China's Jiang Ning tussles for the ball against Vietnam's Nguyen Minh Phuong (R) in Hangzhou on Jan. 21 (Photo: AFP)
Gao Lin fired for the hosts with a header from a corner kick just two minutes into the game. The hosts, who are all taller and stronger than their opponents, recognized the advantage of tallness right from the beginning of the match and played high balls frequently.
However, ten minutes later, midfielder Nguyen Vu Phong equalized for the visiting side with a low drive from inside the box after moves by triangle Phong, Nguyen Minh Chau and Nguyen Viet Thang.
China took the lead again on the 21st minute when Gao burst through two defenders and made a low drive.
It was easy to see that the Chinese players were at a higher level than Vietnam. Du Wei and Jiang Ning scored each for the hosts after Gao's two goals.
Just after the break, Hao Junmin netted the fifth goal for China. Then Gao finalized at 6-1.
In the match, Vietnam coach Henrique Calisto did not get his men play totally defensively. They tried to make counter-attacks and this resulted in one goal.