With 30 gold medals until Nov. 5, China secured their top position in the 3rd Asian Indoor Games. Hosts Vietnam came second with 25 golds, followed by Kazakhstan (14 golds) and Republic of Korea (11 golds).
Vietnam on Thursday won four more golds medals to retain second place, bringing the total to 25 golds, 20 silvers and 17 bronzes.
In billiards, Asian champion and home favorite Dang Dinh Tien bagged a gold in the men's singles one-cushion. He beat Japan's Machida Tadashi 100-25 in Ho Chi Minh City.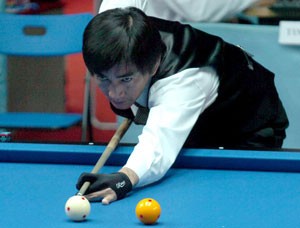 Vietnam's Dang Dinh Tien in the men's singles one-cushion final against Japan's Machida Tadashi in Ho Chi Minh City Nov. 5 (Photo: SGGP)
The women's pencak silat team of Vietnam snagged another gold.
The team – Vu Thi Thao, Nguyen Thi Binh and Ngo Thi Quyen – scored 449 points, followed by Brunei with 423 points to net the silver medal and Malaysia with 394 points to take home the bronze.
Also in pencak silat, Malaysia's Samsuddin won the gold medal for men's singles, followed by Nguyen Viet Anh from Vietnam and Haji Khairul Bahr from Brunei.
The third gold for Vietnam was obtained by Nguyen Thi Hien in the women's singles petanque.
The fourth gold came from wushu. Vietnamese woman Nguyen Thi Hai Yen beat Iran's Dehghari 2-0 in the 70kg category final.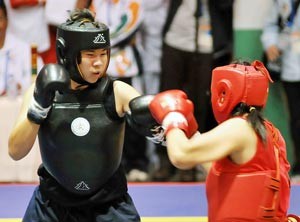 Vietnam's Nguyen Thi Hai Yen (L) faces Iran's Dehghari the 70kg category final in Hanoi Nov. 5 (Photo: SGGP)
In Chinese chess, the Chinese team won the gold in the men's division. The Vietnamese team finished with a silver.