KUALA LUMPUR, May 30, 2011 (AFP) - China's Zhang Jilong has temporarily taken charge of the Asian Football Confederation (AFC) after president Mohamed bin Hammam was suspended over graft claims, a former top official said Monday.
Zhang's appointment was automatic under AFC rules following bin Hammam's suspension, Peter Velappan, who was the Asian body's general secretary for 30 years, told AFP.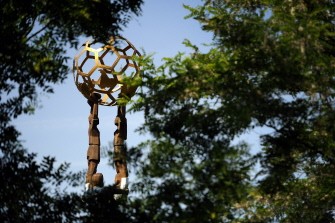 AFP - A sculpture representing men holding a football sits in the garden of the headquarters of football's world governing body FIFA on May 30, 2011 in Zurich.
"The deputy president of the AFC, Zhang Jilong of China, takes over with immediate effect," Velappan said from Zurich, where he is a guest of FIFA ahead of this week's congress.
"In the absence of a president, the deputy president will become the acting president. Bin Hammam cannot oppose this development."
Velappan left the AFC in 2007 after a public falling-out with bin Hammam, and the two are known rivals. Bin Hammam was running for the FIFA presidency until dramatically pulling out on Sunday, hours before his suspension.
On Monday, Qatar's bin Hammam said he was appealing against his ban, which is in force while FIFA investigates claims he tried to rig Wednesday's vote.
"Now he is suspended, he's barred from holding any position in any (football) sports organisation. Hence Zhang, in accordance with AFC statutes, becomes acting president," Velappan said.
"This is the best thing for Asian football," he added.
Zhang's appointment, if confirmed, would add a new twist to the rollercoaster of intrigue which has characterised football's global leadership in recent days.
Zhang was a candidate for FIFA's executive committee in January but the two slots up for grabs went to Sri Lanka's Manilal Fernando and Worawi Makudi of Thailand, who are both bin Hammam allies.
On Monday, Fernando voiced strong support for the Qatari as he battles to clear his name.
"Sri Lanka still supports bin Hammam and he is still the best," Fernando told AFP in an email from Zurich.
Asian heavyweights China, Japan and Australia refused to comment on bin Hammam when contacted by AFP on Monday, although South Korea also said it was maintaining support for the Qatari.
"There has been no change yet in our official position," said a spokesman for the Korea Football Association.
Myanmar Football Federation spokesman Soe Moe said bin Hammam should "clear his name as his dignity has suffered" but added that the body still backed long-time incumbent Sepp Blatter as FIFA president.
"We have no one to support now except Mr Blatter. He's the only one left for election. We also like Mr Blatter more than bin Hammam. He has better experience," Soe Moe said.
Bin Hammam, who saw off an attempt to oust him from FIFA's executive committee in 2009, unexpectedly withdrew his presidential bid on Sunday, and was later barred from football activities pending the graft probe.
The Qatari voiced dissatisfaction at his "completely disproportionate" suspension and confirmed he will appeal the ban.
Meanwhile Blatter, who has been FIFA president for 13 years, looked set to be re-elected unopposed on Wednesday despite widespread corruption allegations which have badly damaged the powerful body.