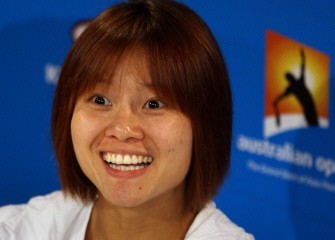 Li Na smiles during a press conference following her victory over Venus Williams on January 27, 2010. Li won 2-6, 7-6, 7-5 to advance to the semi-finals. AFP PHOTO
MELBOURNE, Jan 27, 2010 (AFP) - It has been a long wait but Chinese tennis finally came of age on Wednesday.
Li Na's upset victory over Venus Williams at the Australian Open coupled with Zheng Jie's stunning run gave the world's most populous nation two players in the semi-finals of a Grand Slam for the first time.
It has sparked huge interest in China with national broadcaster CCTV, newspapers and websites giving their exploits blanket coverage.
"More history beckons for Chinese tennis," screamed the Global Times, a headline emulated across the Chinese media.
This is reflected by the number of Chinese journalists in Australia to cover the tennis.
They are usually outnumbered by their Japanese colleagues but this year at least a dozen Chinese media are at Melbourne Park -- far more than usual.
Li and Zheng have been predicting great things for some time but it is only since they left China's state sports system to manage their own careers that the pieces have started to fall into place.
In December 2008, the nation's top four women's players -- Li, Zheng, Peng Shuai and Yan Zi -- became the first Chinese athletes to be granted unprecedented freedom in managing their careers.
It has meant they can select their own schedules, coaches and back-up teams, and also not have to hand over a significant portion of their prizemoney to the Chinese Tennis Association.
The move initially raised doubts about whether the players would survive on the WTA tour, but Li and Zheng, in particular, have thrived.
Li's come-from-behind 2-6, 7-6 (7/4), 7-5 upset of Williams is expected to propel her into the world's top 10 -- the first time a Chinese player has made the grade.
Zheng is forecast to move to 20 in the world after her 6-1, 6-3 quarter-final demolition of Russian Maria Kirilenko.
"For Zheng Jie, for me, for my country and my fans, it is a good thing," said Li, whose bubbly personality and improved English has won over fans.
"Tennis in China right now is getting bigger and bigger.
"We have three or four juniors playing here. We have many good players, but right now (for them) it's step by step. They have to play small tournaments and make an impact."
Zheng feels that with Li and her doing well and high-profile tournaments like the China Open and Shanghai Masters now on the schedule, the growth of the Chinese game has only just started.
"I feel tennis is very quickly going up (in popularity) in China," she said.
"You can see a lot of the newspapers coming here from China," she added.
"I think it (started to become popular) from 2004, Li Ting and Tian Tian won the gold medal from the Olympic Games."
Li and Tian's Olympic medal was certainly a breakthrough, but so was Zheng and Yan's Grand Slam doubles title at the 2006 Australian Open, and her run to the Wimbledon semis in 2008.
The growing profile of the game has already trickled down to children in China with many parents now encouraging their kids to play tennis rather than other sports.
"Table tennis and badminton are still the most popular but more mums and dads are taking their children to tennis clubs now," Yan said.
Yet despite Chinese women doing well, men have still not made any impact.
"Maybe men need to work harder," Zheng said.
They may also need to break free from the state system, which remains largely modelled on the old communist structure where children are identified for a certain sport, then funnelled into government programmes.
The model has certainly been successful, with China topping the gold medal count at the 2008 Beijing Olympics, but has drawn criticism from some for focusing on results rather than the welfare of athletes.