MANCHESTER, United Kingdom, Feb 6, 2011 (AFP) - Manchester City's first team coach David Platt revealed the club will rotate their expensively-assembled strikeforce for the rest of the campaign after an emphatic 3-0 win over West Bromwich Albion.
A first-half hat-trick by Carlos Tevez, who was celebrating his 27th birthday, delivered all three points for City, who could even afford to leave 27-million-pound signing Edin Dzeko on the bench at Eastlands.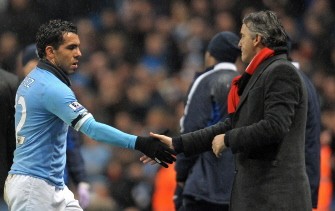 Manchester City's striker Carlos Tevez (L) shakes hands with Manchester City's Italian manager Roberto Mancini (R) after he was substituted during match between Manchester City and West Bromwich Albion on February 5, 2011. AFP
While Dzeko's omission raised eyebrows before kick-off, Platt revealed City had no qualms about resting their strikers when tactics dictated.
"It's a hell of a problem isn't it?" joked Platt, the right-hand man of boss Roberto Mancini.
"We can play in different ways and we felt that if we played this way today, we could open them up.
"You will get games when Carlos and Edin play together and there are so many games that I think our longest break between now and the end of the season is five days.
"If we want to achieve what we want to achieve, and keep progressing in two cup competitions, then we need our whole squad to be there.
"We will look at each game as it comes and decide whether we play with one front man, with two front men, whether Carlos plays off Edin."
City's hopes of challenging for the championship were aided by the spectacular events at Newcastle where one of Platt's former clubs Arsenal threw away a 4-0 lead to draw with the home side -- a result which, claimed Platt, helped make up for the disappointment of a relatively flat second half display from City.
"We came off a little bit disappointed not to have got more goals and played in the way we did in the first half," he said.
"You come out with all the old cliches -- 'It's still 0-0, go out and win the second half as well, goal difference is important.'
"But human nature means you take the foot off the pedal. And in the Premier League, if you lose that five per cent -- coupled with the reaction from the opposition -- then you see what happened.
"Then you see what's happened at St James' and I'd rather be in our dressing room than Arsenal's."
Next up for City is the small matter of a trip to Old Trafford on Saturday where they face league leaders United in a derby fixture that could have a major say in deciding the eventual title winners.
"Our manager believes we can win every match," added Platt. "Next week is a very, very difficult game for us, there is no doubt. But the manager will already have started preparing for that game."
For West Brom, defeat sees them facing the very real prospect of a swift return to the Championship after just one season in the top flight, with manager Roberto di Matteo confessing that the situation is of concern.
"It's not a good sign," said di Matteo. "We just need a win to get ourselves going and we have a home game coming up.
"There are a lot of clubs involved at the bottom so we just need to stay positive that we can win games. It is very tight down there and we just need to win a game.
"We need to show togetherness, fight for the cause and not forget what our strengths are but, good as City are, it's difficult enough without gifting them the first goal and the third goal as we did today."