MELBOURNE, Jan 18, 2011 (AFP) - Third seed Kim Clijsters embarrassed former world number one Dinara Safina 6-0, 6-0 in just 44 minutes to get her Australian Open campaign off to a flying start on Tuesday.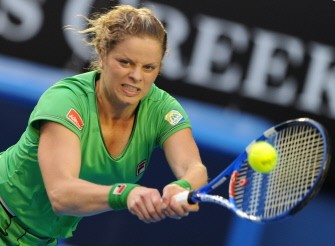 Kim Clijsters plays a return during her match against Dinara Safina of Russia on January 18, 2011. AFP
The US Open champion was in complete control throughout the lopsided first round encounter, barely raising a sweat as she swept the distraught Safina from the Rod Laver Arena.
Safina, Marat Safin's sister, was a runner-up at the Australian Open just two years ago but looked a shadow of her former self as Clijsters dominated every aspect of the game.
The first set was over in a lightning 20 minutes and the second went by in just 24 as Belgium's Clijsters underlined why she is firm favourite for the 2011 title.
Injury-hit Safina, who has now lost in the first round of her last two Grand Slams, is in danger of dropping out of the top 100 for the first time since 2002 as a result of the loss.
However Clijsters will be relieved to make amends for her own Australian Open humiliation when she was thrashed by Nadia Petrova 6-0, 6-1 in the third round in 2010.
It was the fourth time Clijsters has whitewashed an opponent at the Australian Open, after "double bagels" in 2003, 2004 and 2007, but the first time against such illustrious opposition.
"I knew I had to be really focused and play the best I can," Clijsters said.
"I know Dinara didn't play at her best, but I just focused on my side of the net and didn't worry about what she was doing."