Former world number one Kim Clijsters has announced her retirement from tennis with immediate effect.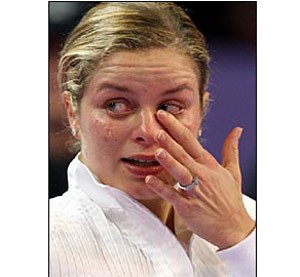 Clijsters had an emotional send-off in Antwerp in February
The Belgian, 23, was going to retire at the end of 2007 but brought it forward, saying "the fire had died out".
Clijsters won the US Open in 2005, was runner-up twice at the French Open and once at the Australian Open and also reached two Wimbledon semi-finals.
"It has been more than beautiful but now the rackets will be hung up," Clijsters told her web diary.
The world number four first announced her plan to retire at the end of this season back in 2005, with a series of chronic injuries prompting the decision.
She has been winding down ever since, with her impending marriage to American basketball player Brian Lynch in July the focus.
Clearly the grind of the 10-month tour has taken its toll.
"Time to marry," she told her website. "Time for children? Time for cooking and playing with my dogs. And particularly a lot of time with my friends and family.
"No more travelling. No more stepping in and out of planes. No more having to read gossip or lies in the papers."
Clijsters' last title came in Sydney in January but she crashed out in the second round of the J&S Cup in Warsaw earlier this week with a straight-sets defeat by qualifier Julia Vakulenko.
She had planned to play at Eastbourne, Wimbledon and tournaments in Luxembourg and Stuttgart in late September and early October.
But the emotional reception she received from her home crowd after losing to Amelie Mauresmo in the Antwerp final in February proved a suitable send-off.
"After the fantastic and moving farewell in Antwerp all good things must come to an end," she said.
"The constantly returning injuries, the laborious crawling out of bed in the morning and the time it takes to warm up tired muscles make it all the more difficult to continue."
Clijsters revealed earlier this season she would be playing less as her career wound down, and had announced she would not play at this year's French and US Opens.
She added: "I would have been able to continue for a few months and to take part in the four most lucrative tournaments (three Grand Slams and the Masters).
"Money is important, but not the most important thing in my life. Health and private happiness are so much more important."
Her Belgian rival Justine Henin said she had "a lot of respect" for Clijsters' achievements in her career.
"We've almost grown up together and I think we've helped each other to reach another level because we've pushed each other always to play better," said the world number one.
"She did a lot for the game, for Belgian tennis for sure, and I think I will have great memories of her."