The much-anticipated contract signing between Portuguese coach Henrique Calisto and the Vietnam Football Federation (VFF) officially took place March 4 in Hanoi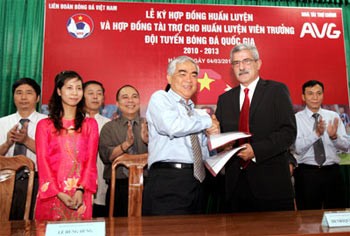 Mr. Le Hung Dung (L) shakes hands with Coach Henrique Calisto on March 4 in Hanoi during a contract-signing that will see the coach stay in Vietnam for the next three years (Photo: SGGP)
According to the contract, Mr. Calisto will retain his job with Vietnam's national football team and U-23 team over the next three years. 
This will include helping Vietnam defend their current championship in the upcoming 2010 ASEAN Football Federation Suzuki Cup from early October to late December, and developing strategies for the U-23 team for the 16th Asian Games in Guangzhou, China.  
A ticket to enter the Asian qualification rounds is another big goal that Mr. Calisto pledged to fulfill during the signing ceremony.   
In addition, he will work as a consultant to assist the U-16 and U-19 teams during their AFC U-19 and U-16 Championships respectively. 
In return, Mr. Calisto will receive a monthly salary of US$22,000. VFF Chairman Nguyen Trong Hy emphasized that the remuneration was an acceptable amount for VFF. The Global Audiovisual Joint Stock Company has agreed to pay a part of the coach's salary.  
Addressing the signing ceremony, Mr. Calisto said, "The relationship between [myself] and VFF is still good so far and I hope with this contract, our relationship will be strengthened more. The newly signed contract gives me lots of pressure, but I accept all of it since it's a part of a coach's life. I truly understand my responsibilities for Vietnam and will try my best to fulfill them.  
"In addition, I believe our teams will gain some successes in the near future. I feel so proud of what I have done to help Vietnam's football improve in the recent years."