New national head coach Nguyen Huu Thang yesterday named 32 players who will gather in Hà Nội this weekend to prepare for the 2018 World Cup qualifying matches.
The former national defender called six forwards, 11 midfielders, 10 defenders and four goalkeepers.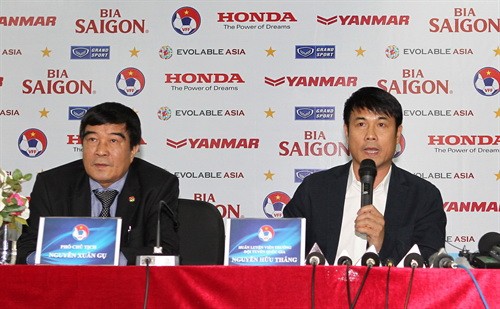 Coach Nguyen Huu Thang (R) talks to journalists during press in Ha Noi to introduce his squad who will train for the WC qualifier later this month.
Among the players national reigning champions Becamex Bình Dương FC have the largest number of seven members, followed by Quảng Ninh Coal (five), Hà Nội T&T and Sông Lam Nghệ An (four each).
The hot names among those summoned are defender Quế Ngọc Hải, who has just returned to football a few days ago after serving his six-month ban, and midfielders Nguyễn Tuấn Anh and Lương Xuân Trường, who are competing abroad.
Their teammates at the former Hoàng Anh Gia Lai FC, Vũ Văn Thanh and Nguyễn Văn Toàn have been called for the first time to the senior squad after several attempts serving the youth teams. At 20, they are also the youngest members of the team.
The oldest one is defender Trương Đình Luật of Becamex Bình Dương, who is 33.
2015 Golden Ball holder Nguyễn Anh Đức also finds a berth in the squad after several years of absence as he did not suit the plans of former coaches.
Coach Thắng said it was a draft list which would be reviewed and shortlisted to 23.
"There will definitely be changes from this draft after I get them to undergo a medical check-up and test them in training. There is no star in my team because I believe that the whole team produces a star, a star cannot build a team," Thắng said.
"I cannot make them successful immediately. I need time to shape up the playing style of the team but I want to guide them to focus on rapid and short balls together with a counter-attack," he said.
"I understand that we have to rejuvenate the team which will be sharp for the tournament from 2017."
The team will start their 10-day training next Monday before they host Chinese Taipei at the Mỹ Đình National Stadium on March 24.
Five days later they will travel to a neutral venue in Iran to play Iraq.
"I want my team to be one of three best teams in this competition, which is also the qualifier of the Asian Cup. Although we have been eliminated from the World Cup that result will give us a berth in the play-off round of the Asian Cup. It means that we still have a chance at the continental event," Thắng said.
Thắng is the most open-minded coach when it comes to dealing with the media as he agreed with the Việt Nam Football Federation officials to organise a press briefing every week, scheduled on Thursday or Friday, for interviews and information updates.
Sponsorship partner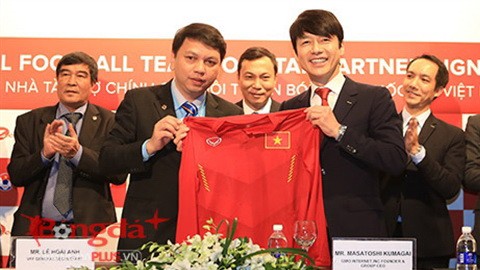 Main sponsor: President of GMO Internet, Mastoshi Kumagai (right), receives a Việt Nam national football team jersey after his group becomes the main sponsor of the team. Photo tinthethao247.org
The team yesterday also found their key sponsor, Z.com, for their new period of development.
Z.com is a global brand by Japanese GMO Internet Group which is currently spreading worldwide. It provides internet infrastructure and service infrastructure to a society in the midst of an ongoing digital revolution.
"In order to support football players, becoming the main sponsor means that we not only have the chance to support them financially but also in activities to help the Việt Nam national team become victorious in the future. We will try our best to support the team and make them stronger," Mastoshi Kumagai, president of GMO Internet said.
He said Z.com will lend support in numerous ways such as by providing the most advanced equipment for the training committee or proper nutrition regimen for the team. The contract starts from April and is expected to extend to several years.
"We really appreciate the sponsor. We hope that GMO-Z.com will be the bridge to create many opportunities for us to have many friendly matches with Japanese teams so that we can learn from them. Moreover, we also hope that GMO-Z.com will help us procure Japanese equipment so that we can practise better," Kumagai said.
On the same day, Z.com also announced their sponsorship for football player Nguyễn Công Phượng who failed to make it to Thắng's list this time because of injury. According to Kumagai, Phượng will be supported in various ways such as providing him training opportunities, giving him the best nutrition regimen so that he will become stronger to represent Vietnam football after returning from his one-year on loan to Mito Hollyhock FC.