Packed stadiums and an electrifying atmosphere will be standard fare when 22 varsity teams compete in Ho Chi Minh City's annual collegiate volleyball tournament later this month.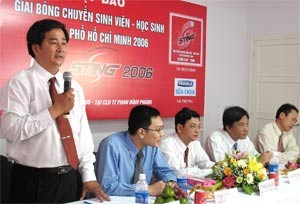 Mr. Nguyen Huynh Diep, general secretary of the HCM City Volleyball Association, addresses Thursday's press conference. (Photo: Tuong Thuy)
The 13 men's teams and nine women's teams from 13 universities will be vying for the Sting Cup, which is named after an energy drink made by title sponsor PepsiCo Vietnam, the organizers told a press briefing on Thursday.

The participating teams come from the universities of Sports Training, Polytechnics, Teacher Training, Natural Sciences, Social Sciences and Humanities, Ton Duc Thang, Saigon Technology, Technique and Technology, Hong Bang, Industry, Banking, Agriculture and Forestry, and Transport.
The qualifying rounds will take place at the first three universities in the list from November 21 to 23, after which the quarterfinals, semifinals and final will be played over three days at Phan Dinh Phung Stadium in District 3. There will be 39 matches in all.
The Ho Chi Minh City Volleyball Association is organizing the collegiate tournament in partnership with the city's collegiate sports association.
PepsiCo Vietnam marketing director Pham Trong Bao Chau told the assembled reporters that his company and the volleyball association were working together to move beyond Ho Chi Minh City and create a national collegiate tournament somewhere down the track.
A new face in this year's sponsorship line-up is Vinamilk, the national dairy corporation. The volleyball association is hoping to find more such heavyweight sponsors in the years ahead.
In previous tournaments, every match drew so many student spectators that the stadiums were packed with bodies and excitement. Undoubtedly it will be the same this time around.