An exuberant Argentina swept aside Peru 4-0, while Mexico overwhelmed ten-man Paraguay 6-0 on Sunday to complete an extraordinary sequence of one-sided quarter-finals at the Copa America. On Saturday, Uruguay had beaten hosts Venezuela 4-1 and Brazil overpowered Chile 6-1.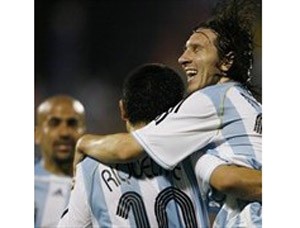 Argentina's Juan Roman Riquelme (C) celebrates with teamates Lionel Messi (R) and Juan Veron
Juan Roman Riquelme scored twice and set up another as Argentina produced a display of attacking football that evoked memories of their 6-0 win over Serbia & Montenegro at last year's FIFA World Cup™.

Mexico were more opportunist, dominating their game from the fifth minute when Paraguay goalkeeper Aldo Bobadilla gave away a penalty and was sent off. Nery Castillo converted the spot kick.
Mexico will face Argentina in their semi-final on Wednesday in a repeat of their second round match at Germany 2006.
Argentina coach Alfio Basile summed up his team's philosophy after they scored four times in the second half. "It's not just about winning. You can simply win a game, but to win the way we are doing makes me proud," he purred.
Argentina had been unable to break through in the first half despite attacking from all angles. Lionel Messi had their best efforts with two typically explosive runs. "We played patiently, moving our rivals around all over the pitch," said Basile.
But Riquelme provided the breakthrough at the start of the second half, collecting Carlos Tevez's pass in his stride and firing a left-foot shot low into the corner. His next masterstroke came in the 61st minute as he split the Peru defence with a slide-rule pass to Messi, who rounded Leao Butron to score his first of the tournament.
Argentina added two more in the last 15 minutes through Javier Mascherano and Riquelme, who finished off a counter-attack in delightfully nonchalent style for his fourth goal of the competition.
"We gave it our best effort but we were well and truly beaten. It's part of football," said shell-shocked Peru coach Julio Cesar Uribe. "Argentina had the variations and superior talent."
Mexico run riot
Mexico were beaten 1-0 at home by Paraguay in a friendly last month, but a repeat never looked on the cards after Bobadilla upended Castillo and was dismissed early on. Bobadilla was replaced by Joel Zayas, whose first job on his international debut was to pick Castillo's penalty out of the net.
Castillo added another goal before half-time, his fourth of the tournament, while midfielder Gerardo Torrado was on target in between. Paraguay kept it respectable until the last 15 minutes when Fernando Arce, Cuauhtemoc Blanco, from another penalty, and Omar Bravo doubled Mexico's tally.
"The target is to win the Copa America and we're on the right path, especially considering that we're improving with every game," said Mexico coach Hugo Sanchez.
Mexico have been taking part as guests since 1993 and have already reached two finals, losing to Argentina on their debut and Colombia in 2001.