Unbeaten Argentina emerged victorious from Group C after posting a 1-0 win over Paraguay in a high-quality encounter at the Estadio Metropolitano in Barquisimeto. Alfio Basile's side will now go forward to a last-eight showdown with Peru, while a tie with Mexico is the Guaraníes' reward for second place. In the battle of the basement between Colombia and the USA, it was the Cafeteros who came up trumps.
Colombia bow out with a win
Their qualification hopes having evaporated earlier in the week, the USA and Colombia had nothing to play for but pride when they made their farewell appearances on Thursday night. And although a 1-0 scoreline in favour for the Cafeteros might not sound too exciting, there was plenty to keep the 38,000 crowd entertained as they warmed up for the main attraction of the evening.
The game's only goal came on 15 minutes when Jaime Castrillon powered home a downward header from Luis Amaranto Perea's cross.
No pain no gain for Argentina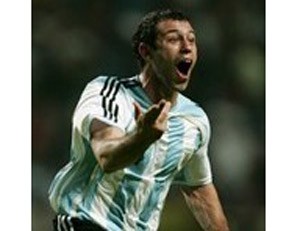 Argentina's Javier Mascherano celebrates after scoring a goal against Paraguay
The summit meeting between Argentina and Paraguay promised much. With top place at stake and one of the best sides on the planet pitting their wits against one of world football's toughest outfits, expectations were high as the match kicked off, even if both managers had decided to rest some of their star names.
Sitting it out for Argentina were Lionel Messi, who eventually come on midway through the second half, and Juan Roman Riquelme. With five-star replacements like Carlos Tevez and an inspired Pablo Aimar, however, there was no danger of entertainment levels dropping away. As for Paraguay, Salvador Cabanas came in for Roque Santa Cruz, keen to add to his three-goal tournament haul.
Although the Argentinians held sway for much of an absorbing encounter, Paraguay's much-vaunted back line stood firm with Boca Juniors keeper Aldo Bobadilla providing a solid bulwark behind.
Basile turned to the bench for a solution to Paraguay's defensive riddles and found it in the shape of Messi and Javier Mascherano, the impish wizard making space for himself before teeing up the Liverpool man for the winner 12 minutes from time.
Argentina's win, one that confirmed their status as the competition's form team with three wins out of three, brought the group phase to an end. Basile and Co will remain in Barquisimeto to take on Peru on Sunday, with Gerardo Martin taking his charges to Maturin for a tough assignment with Mexico.
Quarter-final ties
Saturday 7 July
Venezuela - Uruguay / San Cristobal (22:00 GMT)
Brazil - Chile / Puerto La Cruz (00:50 GMT)
Sunday 8 July
Mexico - Paraguay / Maturin (22:00 GMT)
Peru - Argentina / Barquisimeto (00:50 GMT)