Brazil showed yet again why they are one of the most feared sides on the globe, flexing their muscles when it mattered most to stroll to a 3-0 win over Argentina and retain their Copa America title.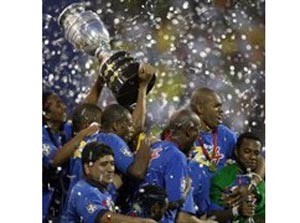 Brazilian players celebrate their victory at the end of the 42nd Copa America
A sultry Maracaibo provided the setting for the Auriverde's eighth continental crown and their fourth in the last five tournaments, one which also secured them a berth at the FIFA Confederations Cup South Africa 2009.
Sunday's much-anticipated final at the Estadio Jose Pachencho Romero provided a repeat of their showdown in the Peru 2004 decider, the Seleção emerging victorious on that occasion after a penalty shootout.

For the Argentinians, therefore, trophyless since hoisting the Copa America trophy aloft in Ecuador in 1993, it was a chance to exact sweet revenge and round off their sparkling tournament in style.
Standing in their way was a tactically astute, well-drilled and ruthlessly efficient outfit content to dispense with the traditional virtues of the Brazilian game to achieve their aim. Dunga's pragmatists were spearheaded nevertheless by the tournament's top scorer in Robinho, who with six strikes in all stood one goal clear of his closest pursuer Juan Roman Riquelme going into the final, and two clear of Mexico's Nery Castillo.
The Brazilians' path to the title was facilitated as early as the fourth minute, when Julio Baptista created some space for himself in the box despite the close attentions of Albiceleste skipper Roberto Ayala, and fired a stunning drive into the top left corner of the Argentinian goal.
Shaken by Brazil's fast start, Alfio Basile's side looked to their fearsome trident of Lionel Messi, Riquelme and Carlos Tevez to work their customary magic. Most routes to Doni's goal were blocked by the V erdemarelhos' intricate defensive web, however, and even when the Argentinians did manage to work an opening the Brazilian keeper proved equal to the task.
The match slipped even further out of Argentina's reach six minutes from the break when flying full-back Daniel Alves found space on the right and whipped in a wicked low cross that the luckless Ayala could only divert into his own net. Two goals to the good, Dunga's men could sense this was their night.
That man Alves was at it again as the game went into the final quarter, latching on to an inviting through-ball from Vagner Love and rounding off a lightning break with a firm drive past Roberto Abbondanzieri's outstretched hand. Their hopes in tatters, the Albiceleste pressed in search of a consolation goal but even that was denied them as Brazil's defence maintained its iron-like grip.
After 13 Copa America wins and five draws, the unexpected reverse was coach Basile's first in the tournament. It was also the second time in a year he has suffered a heavy defeat at the hands of his opposite number Dunga, last September's friendly in London also ending in a comprehensive 3-0 loss.
"We showed that Brazil have got some high-class players," commented Juan, standing in as captain for the suspended Gilberto Silva, who pocketed a second successive Copa America winners' medal along with team-mates Maicon, Julio Baptista, Vagner Love and Diego. "We took a lot of criticism for turning up without our star players but here we are again, with smiles on our faces and celebrating."
And so it was business as usual for Brazil as they deservedly extended their regional reign. For the despondent Argentinians, meanwhile, the increasingly forlorn quest for a first major trophy since 1993 goes on.