The final round of games in Group B went a long way to deciding who plays who in the quarter-finals of the 2007 Copa America. Mexico took the pool honours when they shared the points in a goalless draw with Chile, a result that also saw Nelson Acosta's outfit go through as one of the two third-placed sides. Sandwiched in between come Brazil, who took second spot after ushering Ecuador out of the tournament with a 1-0 victory.
Mexico and Chile indulge in mind games
El Tri and La Roja took their places among the top eight sides on the continent by playing out a goalless stalemate that failed to quicken the pulse of a full house at the Estadio Jose Anzoategui.
With qualification already in the bag, Mexico boss Hugo Sanchez decided to rest some of his first-teamers, including Rafael Marquez and goalscoring sensation Nery Castillo. Forced to put out a similarly weakened side because of injuries to Miguel Riffo, Rodrigo Melendez and Jorge Valdivia and the suspension of Jorge Vargas, opposite number Acosta saw his options restricted for an encounter that was crucial to Chilean hopes.
Given the changes in personnel, it was no real surprise to see both teams adopt a safety-first approach. Goalmouth action was in short supply in a cagey first half and neither Francisco Ochoa in the Mexico goal nor his Chilean counterpart Claudio Bravo were put to the test. The tempo increased a little after the interval, but although both sides showed more attacking intent, it proved to be a day to forget for the front men.
Chile's dubious reward for qualifying as the first of the two third-placed sides is another meeting with Brazil on Saturday, Acosta's men having slumped to a 3-0 defeat to the five-time world champions in their group game last Sunday. Meanwhile, group winners Mexico will face the runners-up in Group C, with either Argentina or Paraguay awaiting them in Maturin in Sunday.
Brazil slowly gather momentum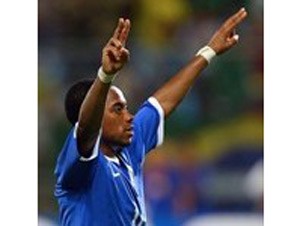 Brazilian star Robinho
Robinho and Co confirmed their presence in the last eight by doing just enough against Ecuador. The Real Madrid forward increased his 2007 Copa goal tally ten minutes into the second half, dusting himself down after a Giovanny Espinoza foul to plant a low spot-kick just past Marcelo Elizaga's outstretched fingers.
Brazil's low-key win ended the slim hopes that Group C makeweights USA and Colombia had of qualifying as one of the third-placed teams. That left Uruguay to advance to the quarters, where they will now face hosts Venezuela in San Cristobal on Saturday.
The only issue that remains to be resolved is the identity of the winners of Group C. Argentina and Paraguay will battle it out for that honour on Thursday evening, with the top dogs going on to face Peru and the runners-up taking on the in-form Mexicans. First up at the Estadio Metropolitano in Barquisimeto, however, is the wooden-spoon duel between the USA and Colombia.