Saudi Arabia struck twice to see off Uzbekistan 2-1 in an absorbing quarterfinal in Indonesia on Sunday night and set up a semifinal meeting with Japan in Ha Noi today.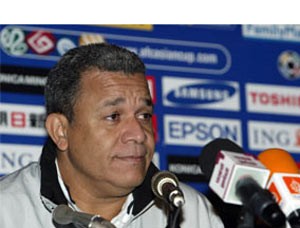 Saudi Arabia's coach Helio Anjos speaks at the pre-match conference in Ha Noi 
The Japanese have twice beaten Saudi Arabia in an Asian Cup final; a one-nil victory handed Japan their first title in Hiroshima in 1992 before another win with the same score saw the trophy return to Tokyo in 2000.
Saudi Arabia's coach Helio Anjos, however, believes his men have already cleared this poor record from their minds.
"Saudi Arabia are not obsessed by those losses in the past. We are deservedly through to the semi-finals. This is our chance to go to the final and we want to take it," Anjos said at the pre-match press conference today.
"Tonight will be a very big game as Japan and Saudi Arabia have similar styles of play. Japan have an edge over us as they have adjusted to Viet Nam's weather while, as you know, we had only one day to train.
"But we will not use this as an excuse if we don't play well. My men are very smart and skillful and they know exactly what they must do," he said.
 
Japan's coach, Ivan Osim, agreed about the previous finals between the two teams, "Japan have defeated Saudi Arab twice but we don't want to think too much about those past results.
"Let's talk about the upcoming game. Our opponents are a very good side. They play an aggressive and modern style of football while many players of my team are weary after a grueling game against Australia.
"Therefore, it will not be a big deal if we lose tonight. I don't think the upcoming game is a big one. It is similar to other matches that both sides want to win," he told reporters.