AC Milan midfielder Rino Gattuso has launched a stinging attack on Liverpool's "long ball" tactics ahead of the Champions League final.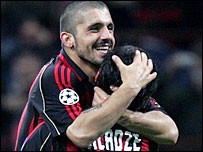 AC Milan's Gattuso is vowing Champions League revenge on Liverpool
Gattuso, 29, who played in the 2005 final defeat in Istanbul, dismissed Liverpool as an inferior side to semi-final opponents Manchester United.
He said: "I feel there is a noticeable difference in talent between Manchester United and Liverpool.
"Liverpool are like an Italian team of 10 years ago. Every ball a long ball."
He added: "All they try to do is defend with everybody behind the ball and one striker.
"United have far more technical players, who are quick and able to do things on the ball. Liverpool do not have those individuals."
And Gattuso set his sights on revenge for 2005, when Liverpool came from 3-0 down at half-time to win on penalties.
He said: "This final will be different - that I promise. It is important to put the record straight."