Manchester United winger Ryan Giggs will announce his retirement from international football with Wales on Wednesday.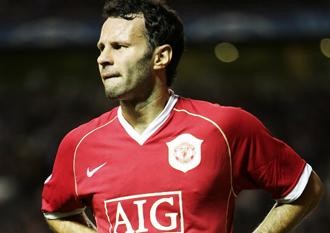 Manchester United winger Ryan Giggs (Photo: fcwales.bravehost.com)
The Wales skipper will end a 16-year career with his country by playing his 64th international on Saturday against the Czech Republic in the Euro 2008 qualifier at Cardiff's Millennium Stadium.
It is believed that Giggs made a personal decision to consider quitting in the wake of Wales' poor display in Dublin in March when a 1-0 defeat all but ended their chances of qualifying for next summer's finals in Austria and Switzerland.
Wales officials were made aware of Giggs' feelings last week when they assembled for the friendly against New Zealand in Wrexham which finished in a 2-2 draw.
With the squad meeting last night at their Cardiff hotel for the Czech match the players are now aware of Giggs' decision. It is a shattering blow for Wales, Giggs being arguably their greatest-ever player - certainly of the modern era - and it will hit boss John Toshack's plans hard.
He has always said that he is primarily aiming for a serious qualification bid for the next World Cup in South Africa, when Giggs - now 33 - will be approaching 36.
But Toshack would have wanted Giggs around for his immense experience and the quality of his leadership.
However, an FA of Wales source said: "Maybe Ryan has come to accept that the chances of qualification for Euro 2008 are all but gone.
"It is a great shame, he has been an outstanding servant to Welsh football and since being made captain under Tosh, he has been a major influence on the young players."
The last time Wales took part in a major finals was the Sweden World Cup of 1958.
Giggs made his Wales debut against West Germany in October 1991 at 17 years and 321 days old. At the time he was the youngest-ever Wales international.
His Wales career was blighted by regular withdrawals in his younger days when a succession of managers were unable to persuade Sir Alex Ferguson to make him available.
It was not until Toshack's reign, which started three years ago, that Giggs even played in an away friendly for his country.
But when former boss Hughes quit to manage Blackburn soon after the heartbreak of losing a play-off to reach the last European Championships, Giggs was one of the few senior players who opted to stay on.
Many, including skipper Gary Speed, quit the new Wales set-up amid much animosity. But Giggs accepted the captain's armband and has aided Toshack's attempts to bring in a succession of new, young players.