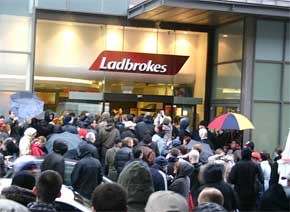 People come to a Ladbrokes office in England
Vietnamese sports authorities on May 24 attended a meeting in Ha Noi that featured a presentation by UK-based sports betting firm Ladbrokes on cooperation and technical matters to organize legal football betting.
According to Viet Nam Television (VTV), Ladbrokes representatives presented a professional system that left a positive impression. However, it was merely a presentation because the Vietnamese Government has not approved of football betting.
Though Viet Nam's National Sports Committee is interested in cooperating with partners in organizing legal football betting, it has not worked out a legal framework for this business.
Ladbrokes business includes betting on horse races, dog races, football, other sports, casinos, lottos and online games. The company posted its gross profit in 2005 at ₤413.9 million (US$773 million), according to its financial report, which was showed at the May 24 meeting in Ha Noi.
Before Ladbrokes, two sports betting operators – S-Pool from Singapore and Vietnamese company SMS owned by Nguyen Ngoc My, an overseas Vietnamese – offered their partnership in legal football betting with the Viet Nam Football Federation.
In related news, the Vietnamese Ministry of Finance had proposed to assign the task of operating and organizing sports betting to only 100% State-run companies, and the ministry would issue licenses. As for foreign-invested companies, the ministry's proposal says the Prime Minister would decide on possible granting of a license. The proposal adds that all sports betting firms in Viet Nam have to pay 0.5% of their annual profit to a State-run fund to fight illegal betting. 
The Viet Nam Football Federation (VFF) is supporting legalization of football betting and considering it, in consultation with foreign betting companies, as a way to get rid of match-fixing,
In early May, VFF chairman Nguyen Trong Hy met with S-Pool President Tan Soo Nan in Hanoi to seek advice on a draft plan to bring sports betting above board. Tan was confident that football betting had a bright future in Viet Nam thanks to big support for the sport in the country.
The draft plan is due to complete this June, and would be sent to relevant ministries for discussions, then presented to the Vietnamese Government later.
Viet Nam's police are investigating several cases of football match-fixing, dating back to 2001 and involving different national players, coaches, referees and officials. 
Link:
Ladbrokes
Related article
Updates of Match Fixing in Viet Nam