Arsenal are confident that manager Arsene Wenger will stay at the Emirates Stadium, with chairman Peter Hill-Wood revealing on Monday that talks over a new contract for the Frenchman have opened.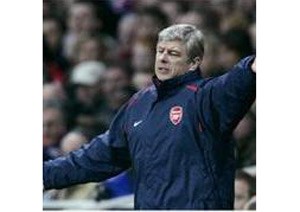 Arsene Wenger
Wenger's current contract expires at the end of the forthcoming campaign, but Hill-Wood told the club's official website that he is confident the manager will sign up. "I very much hope he will. It's very important," the chairman said.
"He's done a marvellous job for the last ten years or so. He looks pretty fit to me and I think he enjoys himself still. He's got a good job and I'm hoping he'll stay with us.
"We had a fairly lengthy conversation recently and that went very well. Hopefully, in the not too distant future we'll have something positive to say about it. I'm confident he'll stay."
Hill-Wood also dismissed talk of a summer of discontent at Arsenal. Wenger's side have been hit by the departure of captain Thierry Henry for Barcelona, while the futures of Wenger and midfielder Cesc Fabregas have also been the subject of persistent speculation, although the Spaniard committed his future to the club over the weekend.
With Croatia's Brazilian-born striker Eduardo da Silva, full-back Bacary Sagna and goalkeeper Lukasz Fabianski the only new arrivals so far, Arsenal's ability to keep pace with their big-spending rivals has been called into question. "I believe we've never been in a better position," said Hill-Wood.
"I think the team is absolutely first class. We had some very good results last year against the likes of Manchester United and Chelsea, the sides we didn't overhaul in the league but played pretty well against when we faced them.
"It's a young side still but they're a year older now so they're going to be that much better. If you tune in to the media, you would believe that it's been a difficult summer but I think people have not really looked behind what's happened.
"I'm very relaxed. I think we've got a very good squad and we've added a few players, most of them not names people have heard of before. But that's very much Arsene Wenger's style. People hadn't really heard of Thierry Henry, Patrick Vieira or Cesc Fabregas before they arrived."
Hill-Wood rubbished suggestions that the Gunners are being hampered by the financial burden of their new Emirates Stadium home. "It's actually the reverse," he insisted.
"Relocating to the Emirates has increased the income of the club. The stadium has not held Arsenal back at all in terms of bringing in players.
"It's actually given us the opportunity to compete with the biggest clubs in the world. If we had stayed at Highbury that would have limited our resources and over the long term affected our ability to financially compete with the top sides."