Fabio Capello, who guided Real Madrid to the Spanish league title on Sunday, could quit coaching altogether if the club decide to sack him.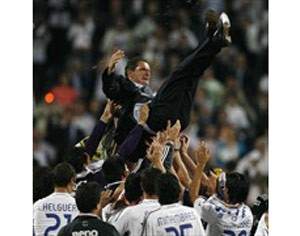 Real Madrid coach Fabio Capello is tossed in the air by his players after defeating Real Mallorca
The 61-year-old, who has coached AC Milan and Juventus in Serie A, still has two years left on his Real contract, but his future is far from assured given his fractious relationship with the club's president, Ramon Calderon.
Asked what he would do if Real show him the door, Capello told the Gazzetta dello Sport: "I've already coached the best teams, so I could quit two years early."
Capello said his chances of staying with Real, whom he also helped win the Spanish title in the 1996-97 season, were 50-50.
"It's on the toss of a coin," he said. "All I know is that I would like to stay here to win the Champions League. I have already booked my flight (back to Spain) to return on 19 July, because training starts on the 20th."
After Real's 3-1 win over Real Mallorca on Sunday, which clinched a 30th league title for the Spanish giants, Capello confirmed he would be having talks with Calderon this week about his future.
"I want to carry on, but that doesn't depend on me and I've got to talk to the president," Capello said.
If Capello does leave in the summer, he will not be the first Real coach to be shown the door after a stunning success. German coach Jupp Heynckes was sacked just days after Real won the UEFA Champions League in 1998.
And Vicente Del Bosque, who has also been mooted as a possible successor to Capello, did not have his contract renewed in the summer of 2003 despite leading Real to two Champions Leagues and two La Liga titles in his four years in charge.