Viet Nam gained an astonishing 5 – 3 win over Bahrain in a friendly match at home on Saturday.

Viet Nam's coach, Alfred Riedl, was happy with his boys' performance but assumed that his side was a little lucky in achieving their victory.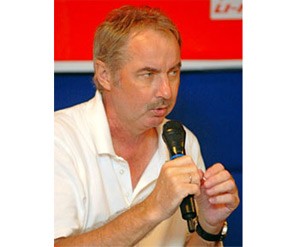 Viet Nam's coach Alfred Riedl
"In the opening stages of the game both sides came out attacking. The score line should have been higher as both teams created dozens of clear-cut opportunities.

While Viet Nam's frontline played well, luckily for us Bahrain's defense, particularly the goalkeeper, made several mistakes" said coach Riedl after the match.
After this friendly, Viet Nam only has one more week to prepare for the upcoming Asian Cup, which will kick off on July 7.

Coach Riedl pointed out the team's difficulties: "At present, Viet Nam still has a lot of things to do. Key players in midfield including Minh Chuyen and Quang Thanh are suffering from injury while frontline strikers Phan Thanh Binh and Le Cong Vinh are not on top form, neither is the defense.
These weak spots will leave us in a very tough position when we play against strong rivals including Japan, Qatar and the UAE"   
Viet Nam's assistant coach Mai Duc Chung revealed to local sport journalists that the national team will play in a 4 – 4 – 1 – 1 formation.
Viet Nam, co-hosts of the 2007 Asian Cup along with Thailand, Malaysia and Indonesia, will be in Group C with Qatar, the United Arab Emirates and Japan.
Vietnam's 23-man squad for the July 7 – 29 Asian Cup includes:

Goalkeepers: Nguyen Quang Huy
Defenders: Phung Van Nhien, Vu Nhu Thanh, Nguyen Huy Hoang, Mai Tien Thanh
Midfielders: Nguyen Vu Phong (U23), Le Tan Tai, Nguyen Van Tai Em, Nguyen Minh Phuong
Strikers: Le Cong Vinh (U23), Thanh Binh (U23)