Jose Mourinho has found himself in the unusual position of being out-gunned in the transfer market, but he believes his decision to go back to basics will prove decisive in the race for the Premiership title.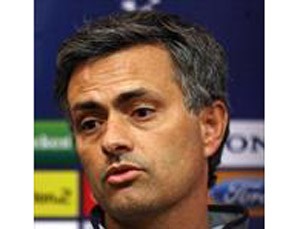 Chelsea's manager Jose Mourinho
While Manchester United and Liverpool spent big money to upgrade their squads during the close season, Mourinho's only major outlay was the £13 million paid to Lyon for Florent Malouda. The France winger is a significant arrival though, because he has a key role to play as Mourinho returns to the 4-3-3 formation that served him so well in his first two seasons at Stamford Bridge.
The formation, which calls for two wingers to play either side of a central striker, was ditched last year to accommodate Andriy Shevchenko and Michael Ballack. But both players failed to live up to their illustrious reputations, forcing Mourinho into a rethink. He has opted to return to his old gameplan and will use Malouda and Joe Cole to compliment Didier Drogba.
It was Drogba's herculean efforts that dragged Chelsea almost single-handedly to within touching distance of an unprecedented quadruple last term. The Ivorian striker scored 33 times, including winners in the FA and League Cup finals, but Mourinho knows he needs more help if Chelsea are to wrestle the trophy back from United.
"Our rivals have strengthened but so have we," Mourinho said. "I don't think it's going to be who spends the most money who wins the league. That has never been the case.
"It's always been who has the fighting spirit, togetherness and which of the big players had the better season. Cristiano Ronaldo had a good season last year and was the main reason United won the league. This year we need two or three important players in attack to come up with the goods and that's what we'll be trying to do."
Settled differences
With wingers back in vogue in west London, Real Madrid's attempts to lure Arjen Robben to the Bernabeu are unwanted. But, despite clearly trying to unsettle the Dutchman, the Spanish champions have yet to feel the newly mellow Mourinho's wrath.
He is determined to be more loveable this season after a combustible campaign that included rows with owner Roman Abramovich, Rafa Benitez and even the Reading Ambulance service. Not even the presence of Avram Grant, the club's newly installed director of football, has managed to ruffle Mourinho. Grant has arrived from Portsmouth at the behest of Abramovich, who believes the Israeli can get the best out of Shevchenko.
When his appointment was first mooted last season, Mourinho made it clear he was unhappy with the perceived attempt to interfere with his staff. But now the Portuguese claims Grant's role has been defined to his satisfaction. That may well have been the result of a meeting between Mourinho and Abramovich earlier in the summer, where they agreed a truce.
Further evidence of the outbreak of detente was visible when they shared a drink at the Beverly Hills Hotel during the club's pre-season tour to Los Angeles. So for the moment all is sweetness and light in the corridors of power, which is just as well because Mourinho faces arguably his toughest season. Sir Alex Ferguson's spending has given United a formidable look, while Benitez has greatly enhanced Liverpool's attacking options.
Another cloud on the horizon for Mourinho is the African Nations Cup. The tournament, which takes place in Ghana early in the New Year, is likely to deprive the club of Drogba, Michael Essien, John Obi Mikel and Salomon Kalou for at least a month. With that in mind he has brought in Claudio Pizarro, Steve Sidwell and Tal Ben Haim on free transfers to act as cover.
On the plus side, John Terry's new, £135,000-a-week contract settled a potentially distracting issue. But whether Chelsea's makeover is enough for Mourinho to regain his position as the Premiership's pre-emminent manager remains to be seen.