For the second time in a decade, one of the world's most famous football clubs has handed over the coaching reins to a German. After Jupp Heynckes in 1997, the Galacticos have taken on Bernd Schuster - a familiar face whose job it will be to take Real back to the summit of European football.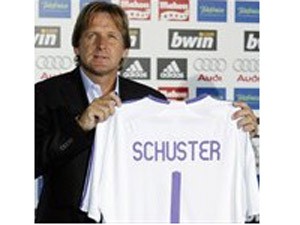 Germany coach Ben Schuster will lead Real Madrid in the next season
The link between the most successful club in the history of Spanish football and its hired hands from further north goes deeper than at first glance, however. For more than 30 years, Real Madrid have been persuading Germany's top players to venture south and join the all whites.
FIFA.com takes a look at how these German stars fared over the last 30 years for the team which has won a record 30 Spanish league titles.
Gunter Netzer opens the way
In the summer of 1973, 28-year-old Gunter Netzer, who had recently won the German league and cup with Borussia Monchengladbach, became the first German to play in the Primera Division. Prior to this point, there had been a ban on foreign players in the Spanish league, in order to strengthen the quality of the national team. Netzer was therefore opening the way not only for his compatriots but for stars from around the world, many of whom would join Real in the years that followed. The midfielder won two league titles and two cups in Madrid before heading back north, stopping this time in Zurich.
Paul Breitner followed in Netzer's footsteps a year later on the back of his performances for Bayern Munich and also in West Germany's FIFA World Cup™-winning side if 1974. Breitner was seen as something of a rebel at the time - an image which he was happy to maintain by permanently quarrelling with his national team coach Helmut Schon - but he was very much in awe of club president Santiago Bernabeu.
"He is the only wise man that I have met in my life thus far," said Breitner of the legendary figure. "He is full of warmth and enthusiasm, and he was the kind of person who really left an impression on you."
Stielike the permanent fixture, Schuster the "blond angel"
Gunter Netzer and Paul Breitner moved on to pastures new, but that was not the end of the German connection for Real Madrid - far from it. Uli Stielike joined them from Borussia Monchengladbach in 1977 and became a permanent fixture in the all-white strip. Stielike spent eight years with the club, winning four league titles, two Spanish cups and also the UEFA Cup. "Of course I am proud, particularly since I played for Real for eight seasons, from 1977 to 1985," said Stielike - now coach of Côte d'Ivoire - in an interview with the Lower Rhine football association. "It was a real privilege since at the time, the rules stated that you could only have two foreign players per club."
Three years after Stielike moved to Neuchatel Xamax, Europe's most successful club (with nine European Cup/UEFA Champions League successes and two UEFA Cups to their name) again went shopping for German stars, only this time, they did it at home. Bernd Schuster had already had eight successful seasons in the Primera Division for arch-rivals Barcelona, and in 1988, the Blond Angelmoved to Madrid. Two titles and a cup win were to follow for Schuster, who won 21 international caps in his career, before he moved across the city to Atletico in 1990.
Safe hands
Germany has always had a reputation for producing good goalkeepers, both at domestic and international level, with the likes of Oliver Kahn, Jens Lehmann, Toni Schumacher and Sepp Maier. Bodo Illgner is a name which can be added to that list. In 1986, as a 19-year-old, he had his first taste of the Real Madrid legend while sitting on the bench during the UEFA Cup Final, as FC Cologne - with the infamous Toni Schumacher in goal - went down 5-3 on aggregate to the Spaniards. Ten years later, on 30 August 1996, the by then former international keeper with 326 Bundesliga appearances to his name signed a five-year deal with Real, his transfer costing four million Deutschmarks. Those five years were highly successful ones, with Illgner winning two UEFA Champions League titles and the Intercontinental Cup in 1998.
In the 1997-1998 season, another German joined the "Greatest football club of the 20 th century", as FIFA were to name Real Madrid in 2000. Jupp Heynckes, 52 years old at the time, led the team to UEFA Champions League glory, but was moved on in unceremonious fashion after the team only finished fourth in the Spanish league.
Modern-day heroes
The 2007-2008 season will see a German duo of Bernd Schuster and Christoph Metzelder at the Bernabeu. 19 years after joining the club as a player, 47-year-old Schuster has returned, this time as coach with a three-year contract set to pay him some 3.5 million euros per year. Schuster's reputation in Madrid is as strong as ever, as current club president Ramon Calderon explained: "He is a great coach and a wonderful personality. We are confident that he will be able to build a team capable of achieving greatness."
Schuster, who is coming off two years as coach of Spanish top division outfit Getafe, has even higher aims which he stated at his inaugural press conference. "I hope that the players will always think of the fans and how to make them happy. It's not just about winning trophies - you have to do that while entertaining the spectators," commented the man who won the 1980 UEFA European Championship as a player.
Part of his blueprint for successful and entertaining football includes current international Christoph Metzelder -the first German to join the Galacticos for 16 years. The defender has signed a three-year contract - further proof that the Spanish-German alliance is alive and kicking some 34 years on.