Arsene Wenger has hinted that France defender William Gallas could captain Arsenal this season, despite his public criticism of the club. Gallas, 29, was unhappy about Arsenal's failure to sign enough top quality players but Wenger still gave him the skipper's armband for Wednesday's 1-0 friendly defeat by Salzburg in Austria.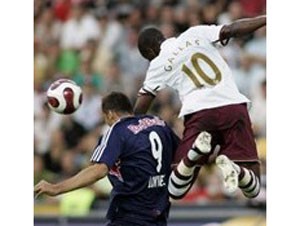 Vratislav Lokvenc from Red Bull Salzburg and William Gallas from Arsenal London challenge for the ball
The former Chelsea player had claimed several of Arsenal's leading players were considering their futures after previous captain Thierry Henry's depature to Barcelona, and said he did not want to "play for third place". But Wenger insists there is no rift with Gallas, who along with Gilberto Silva and Kolo Toure, is a strong contender to lead the Gunners.
"William has all the ingredients to be captain - it is him or players like Gilberto or Kolo Toure," Wenger told Arsenal's official website. He has got a lot of experience.
"At the back is the best position to captain the team because you are in a position where you see all the problems on the pitch - that is a better position than for a centre-forward or wide player."
Wenger's team face Paris Saint Germain on Saturday in the opening day of pre-season tournament at their Emirates Stadium, and then play Inter Milan on Sunday. Brazil midfielder Gilberto, who was often captain in Henry's absence last season, will be missing as he rests after helping his country to Copa America 2007 success.
Wenger will keep his options open until the first Premiership game of the season against Fulham and said: "We go game by game. We are in a preparation period at the moment and at this time, the captain problem is not the most important problem for us - it is to be fit.
"You have to give us some time, show patience and continue to play with the spirit we have shown in Austria. We created some chances and things we had worked on went well. Of course, we are not sharp at the moment, but overall what we wanted to see, we have done - the intensity of the workout was there."