Vietnam has globally recognized cueists and we have a dream.  And the dream will become reality for Vietnam at the 15th Qatar Asian Game
In Asia, Japan and Korea are considered the powerhouses for the three cushion (carom) event , but in the Southeast Asia, Vietnam has been, for a long time, known as the carom king, since Vietnam started playing it in ASEAN Games. In 2001 when cueist Ly The Vinh defeated Filipino Efren Reyes, World ex-No. 1 player, Vietnam was really on throne for carom at the 22nd ASEAN Games. This fame was more confirmed at 14th Asian Games (ASIAD),held in Bussan when Vietnam Billiards team continued its victory with winning one gold and one silver for carom event in the following year.
The 15th Asian Games is to be held in Doha, Qatar next December. Vietnam will come to Doha with her strongest sports. Billiards is among them. Vietnam is extremely ambitious to win more medals for carom, one of the most promising event to produce more gold for Vietnam delegation.
Since the beginning of this year, the national carom cueists including Duong Anh Vu, Ly The Vinh, Dang Dinh Tien and Tran Vietn Trieu under the technical supervision of experienced coach, Nguyen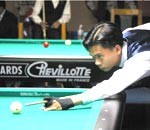 Duong Anh Vu,one of Vietnam's young exellent carom cueists
Viet Hoa has been called up for a special training at the National Training Center No. 2  to prepare for the  campaign to conquer the Doha peak, for the carom event will continue to be looked upon  with the greatest expectation to Vietnamese delegation at the coming Asian Games.
A dream is a dream and future in the common sense is mysterious, so unpredictable. However, the dream of winning medals at the next ASIAD is more than possible for the Vietnam carom's sake, because Vietnam has world recognized carom cueists and Billiards sport always gets full support from Vietnam Sport Committee. It is with this great support that Vietnamese cueists have been given opportunity to master their skills, experience and upgrade their level in international competitions "We have cueists in the world's top 20" said Mr. Nguyen Minh Hoang, vice –director of Sport Center of District 1 and ex – national team coach said. This is changing the international view towards Vietnam. Powerful countries like Japan and Korea are now keeping their watchful eyes on Vietnam. They both realize Vietnam will be always their tough opponents whenever they meet with.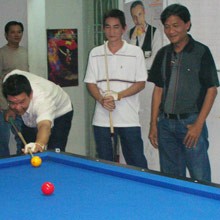 experienced cueists Dang Dinh Tien and Ly The Vinh on a training day for 15th ASID under the technical supervision of the national coach, Nguyen Vietn Hoa. (Phto - thaivy)
With the globally recognized cueistlike Duong Anh Vu,ranked 12 last year by UMB (Union Mondiale de Billiard), excellent and experienced players such as Ly The Vinh, Dang Dinh Tien and the potential cueist, Tran Viet Trieu, "We are capable of dreaming of a more brilliant victory in Doha this year, "Mr. Nguyen Minh Hoang said " because we have cueists in the world's top 20 and we have an experienced coach." For this reason, Vietnamese fans will be confident about a victory of Vietnam carom.

"There is still plenty of things ahead of us to bring this posible dream come true" Mr, Nguyen Minh Hoang said " We will have many  training tours abroad at various levels before the ASIAD. They are really necessary for our national cueists to be exposed to much practice before the big Games like the 15th ASID, so they need to be fully supported by the Vietnam Sport Committee in both procedure and finance."
The training tours he mentioned include the World Three – Cushion Championship in Span in April,
Mr. Nguyen Minh Hoang, vice-director of Sport center of District 1 and ex-national billiards coach. (Photo - thaivy)
the Asian Three – Cushion Championship in Singapore, the National tournament in June, the Excellent Cueists tournament nationwide in Da Nang and a three week training trip in Europe in October. "These tournaments will be a good opportunity for national players to practice and sharpen their technique" Mr. Nguyen Minh Hoang said "They will be the basis for selecting the two best athletes to compete in Qatar."
The 15th ASIAD is a bigger field, in both quantity and quality, than SEA Games to Vietnamese athletes to play. Although carom has not been included in Beijing 2008 Olympic, achieving a victory for carom in ASIAD will become an valuable prize to any Vietnamese cueists and is definitely the national pride. This pride will let Vietnam join the world professional carom circle and step up to powerful countries of carom in the world.
Vietnam has globally recognized cueists. We have a dream, Therefore, in the 15th Qatar Asian Game, that dream will be a dream no more, but become a reality.